Past Event
NYOBS & Eve Essex Concert
Mercury Loung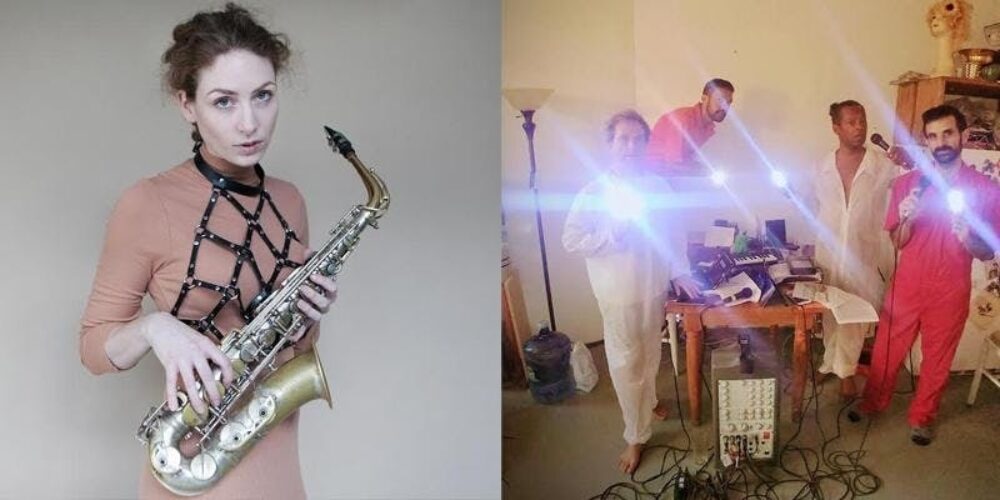 (R to L): Eve Essex & NYOBS
Join NYOBS (Michael Cacciatore, Peter Cramer, John Michael Swartz and Jack Waters) & Eve Essex for a concert on August 21 at Mercury Lounge!
Perched on the border wall between Brooklyn and The Lower East Side,(otherwise known as New York's East River), NYOBS is the alternative experimental free association queer skinned "kitchen" band born at the Punk Island. From trance lyrics to primal screams NYOBS pierces the restive soul with MINDBLOWING inducements of tonal & aural synth­esthesia. Traversing extremes that produce hypno-manic swings of subliminal hyper awareness it's a dreamy trip you'll want to be on. Hold tight to your squeeze, It's a rollercoaster. We're the selfies of sound for all the LGBTQQIAAP anarchs in the house. Nurtured by Metropolitan Lounge's Hot Fruit party in Brooklyn, NYOBS' home base is Le Petit Versailles, the verdant oasis and electrifying art garden of NYC downtown underground repute.With no known genre to pigeonhole, NYOBS is a sound that seamlessly riffs from an array of inspirational sources including Sun Ra, Ornette Coleman, Brian Eno, Pierre Boulez, Harry Partch, Kraftwerk and Ikue Mori. NYOBS improvisational riffs merge the best of acoustical sound with hard wired electronics. They all sing and play whatever instruments of wind and percussion they can get their hands on (with mutual consent).Performance highlights include: Brooklyn Waterfront Artist Coalition (with the legendary 3 Teens Kill 4), Incarnata Social Club at Berlin (hosted by Kembra Pfahler of The Voluptuous Horror Of Karen Black), Memories That Smell Like Gasoline - Tribute to David Wojnarovicz at the Whitney Museum, From The Ashes, Rise! at the queer activist WRRQ Collective, and Aprés Avant Garde Festival- Day De Dada.
Eve Essex is a Brooklyn-based musician who performs with alto saxophone, piccolo, voice and electronics, harnessing elements of drone, classical, avant-jazz, and distorted pop. Her first solo album, Here Appear, was released by Soap Library (cassette) and Sky Walking (LP) in 2018. She frequently performs with ensembles Das Audit, Hesper, and HEVM. With Das Audit she has released an EP and live cassette, additional recordings have appeared on compilations by Wild Flesh Productions, Untergang Institut, PAN (with James K), and Sky Walking (with Dan Fox). She is host of the monthly series "How To Tell A Sound" on Cashmere Radio, Berlin.
---