Past Event
Our Bones Glow in the Dark
BROADCAST Screening Series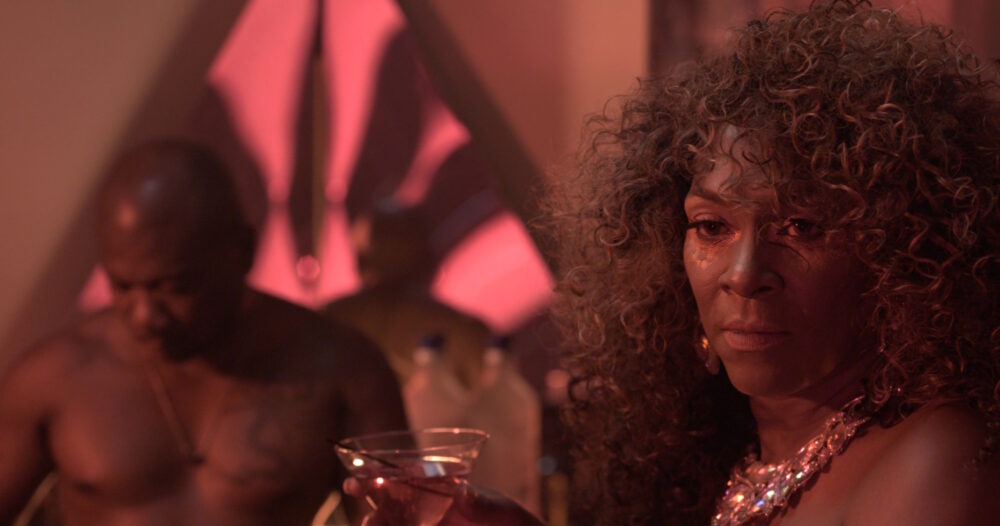 Tourmaline, still from 'Atlantic is a Sea of Bones', 2017. Commissioned by Visual AIDS for ALTERNATE ENDINGS, RADICAL BEGINNINGS
Visual AIDS presents Our Bones Glow in the Dark as part of BROADCAST, a free summer screening series featuring contemporary artists' responses to the ongoing AIDS crisis through the medium of video.
Our Bones Glow in the Dark
Curated by Louie Ortiz-Fonseca
Saturday, July 9, 4pm at The Center (Room 301)
Featuring work by The SPOT, Tourmaline, and Shanti Avirgan
Why is the art of storytelling important to social justice movements? One answer is that we exist in a climate that is hell-bent on silencing our voices and disappearing our histories. This program presents short videos that shine light on Black queer and trans survival, community building, and storytelling. When we tell our stories, we are uncovering bones that glow and light our paths to freedom.

Louie Ortiz-Fonseca is an Afro-Puerto Rican person living with HIV and the creator of Gran Varones, a digital project that explores pop culture, queer history, and storytelling through an Afro-Latinx queer lens.
BROADCAST features six unique screenings from June 8–July 9 at venues across New York City. Full details are available at visualaids.org/broadcast.


Screening Program
Our Bones Glow in the Dark is an interactive experience where conversation between the audience and facilitators will be intermixed between the video shorts. The event will be approximately 80 minutes in length.
Gwen Guthrie, Can't Love You Tonight, 1988
Released in early 1988 as the lead single from her fifth studio album Lifeline, as the number of AIDS diagnoses in the US reached over 47,000, Can't Love You Tonight was one of the first mainstream released R&B songs to explicitly name "AIDS" in its lyrics. (4 min)

The SPOT (Safe Place Over Time), The SPOT, 2018

The SPOT (Safe Place Over Time) is dedicated to providing services and opportunities for wellness, empowerment, and leadership to young men in Jackson, Mississippi. 40 percent of gay and bisexual men in Jackson, the majority of them black, are living with HIV—the nation's highest rate. Housed in the Jackson Medical Mall among healthcare and service providers, The SPOT offers a place for young men to openly discuss issues and challenges, work to improve their quality of life, and to promote the concept of self-worth in a variety of ways, including dance and creative expression. (6 min)
Tourmaline, Atlantic is a Sea of Bones, 2017

Atlantic is a Sea of Bones is a short film drawing from the Lucille Clifton poem of the same name that follows Egyptt LaBejia, an NYC-based performer through the 80s, 90s, and 2000's in NYC. The haunting and otherwordly film set to an original score features small every day acts of refusal, resistance, and existence—such as performance and self expression—that have a tremendous impact on the world. The film reveals how the historical and systemic violence, like the killing and policing of Black queer and trans life, continue to haunt our contemporary landscapes and is inextricably linked to the ongoing AIDS epidemic and the black queer/trans spaces shaped so intimately by HIV/AIDS, including the spaces where we come together and make life together: public spaces and nightlife spaces. (7 min)
Shanti Avirgan, Beat Goes On, 2019

Beat Goes On is an impressionistic portrait of the activist Keith Cylar (1958–2004), co-founder of Housing Works and a central figure in the AIDS Coalition To Unleash Power (ACT UP) NY. Cylar spoke clearly, frequently and with moral force about the struggles of people living with HIV/AIDS in New York City, many of whom were impoverished and struggling with multiple social and medical problems. His openness about his own drug use and the centrality of the fight against the criminalization of drugs for AIDS activism make Cylar's legacy especially resonant and relevant at this time. A fellow harm reduction activist recalls how "Keith moved from mixing with the government, to threatening the government, to beating the government—all in the space of five minutes." By resurfacing and weaving together archival media of Cylar's own words and actions, this video endeavors to convey—in the space of about five minutes—some of the personal charisma, political savvy and fearlessness that characterized Cylar's advocacy. (9 min)

BROADCAST features six unique screenings from June 8–July 9 at venues across New York City. Full details are available at visualaids.org/broadcast.
---