Past Event
Over But Not: Aftercare
BROADCAST Screening Series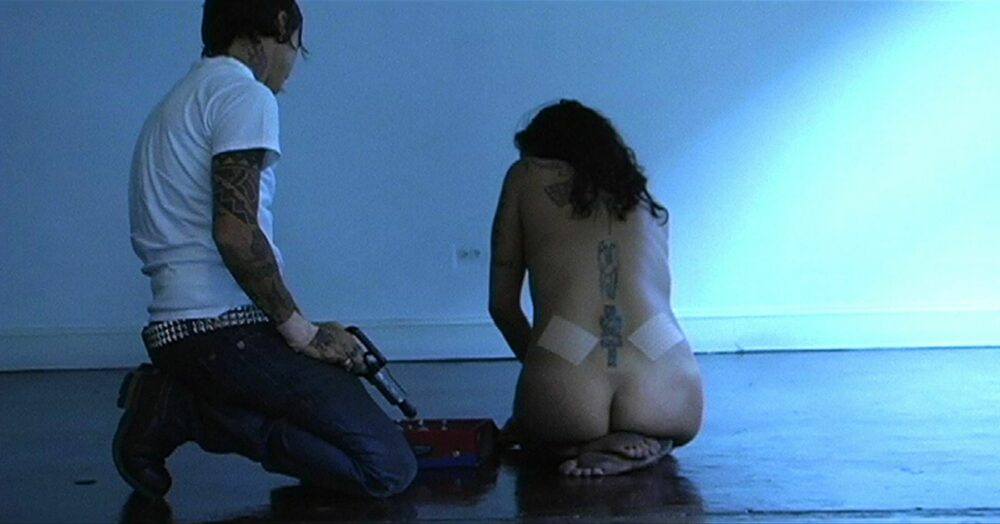 Julie Tolentino/Abigail Severance, Still from 'evidence', 2014. Commissioned by Visual AIDS for ALTERNATE ENDINGS
Visual AIDS presents Over But Not: Aftercare as part of BROADCAST, a free summer screening series featuring contemporary artists' responses to the ongoing AIDS crisis through the medium of video.
Over But Not: Aftercare

Curated by What Would an HIV Doula Do?
Wednesday, June 15, 7pm at Anthology Film Archives
Featuring work by Lucas Núñez, My Barbarian, Nguyen Tan Hoang, Rhys Ernst, Carl George, Julie Tolentino/Abigail Severance, Tiona Nekkia McClodden, and Steed Taylor

Aftercare: the attention provided to someone after something is over, be it connected to medicine, prison, or kink. But what happens when there is no "over"? The videos in this program explore aftercare amid a world of crises that are not over, including HIV, racism, and misogyny. Together, the videos highlight diverse forms of ongoing care—archiving, dancing, storytelling, intergenerational connection, and more. Presenting these works in 2022, the What Would an HIV Doula Do? Collective invites you to also think about aftercare amid the ongoing COVID-19 pandemic.
What Would an HIV Doula Do? is a collective of people who create culture and community in response to the ongoing AIDS crisis.

BROADCAST features six unique screenings from June 8–July 9 at venues across New York City. Full details are available at visualaids.org/broadcast.
Screening Program
Runtime: Approx. 51 minutes

Lucas Núñez, Prospects, 2021

A meditation on time and progress through the routine consumption of antiretroviral treatment. (3 min)
My Barbarian, Counterpublicity, 2014
The three members of My Barbarian re-perform scenes from MTV's The Real World in an alienated style, contrasting this dislocated form of "reality TV" with lyrics adapted from José Esteban Muñoz's theory of queer counterpublic spheres. (7 min)

Nguyen Tan Hoang, I Remember Dancing, 2019

An intergenerational cast of "trans and queer gaysians" ruminate on the past and future of AIDS, activism, gay culture, love, and (un)safe sex. Inspired by Joe Brainard's I Remember poems, these confessions illuminate perspectives of queer Asian communities often absent from whitewashed narratives of HIV and AIDS. (5 min)

Rhys Ernst, Dear Lou Sullivan, 2014

An invocation of Lou Sullivan—trans man and AIDS activist largely responsible for establishing the distinction between gender identity and sexual orientation. Cut with images of Ernst's own examination of this figure and trans history, the video is structured by the search for and desire to identify elders and an intergenerational exploration of gay transmasculine identity. (7 min)

Carl George, DHPG Mon Amour, 1989

Focusing on the ordinary minutiae of the daily life of two people living with AIDS, DHPG Mon Amour depicts the struggle for self-determination and control over one's own body, resonating on both an intimate and political level. Originally shot on Super 8, the film is an intimate exploration of the radical advances made by people with AIDS in developing their own health care. (16mm, 12 min)

Julie Tolentino/Abigail Severance, evidence, 2014

Julie Tolentino's naked moving body articulates backwards on her hands and knees, balancing a cluster of Asian medicine cups as the names of loved ones living and lost blur together and are archived in Tolentino's body. The video is an evocation of unseen yet held spaces of relationship, memory, sex, and loss. (4 min)

Tiona Nekkia McClodden, The Labyrinth 1.0, 2017

A poetic film essay that cites Brad Johnson's poem "The Labyrinth," published in the 1995 anthology Milking Black Bull. Sourcing 16mm surveillance​ footage, 1970s tearoom porn, and structuralist scenes shot in North Philadelphia, the work visually explores the concept of the labyrinth as a site for cruising. (6 min)
Steed Taylor, I Am... a Long-Term AIDS Survivor, 2021

Through a chorus of voices, Steed Taylor explores the difficulties of being a long-term AIDS survivor and the unexpected health problems facing many senior survivors. (7 min)

---