Past Event
Patrick Webb: Tinker Tailor Paintings Exhibition
Pfizer Building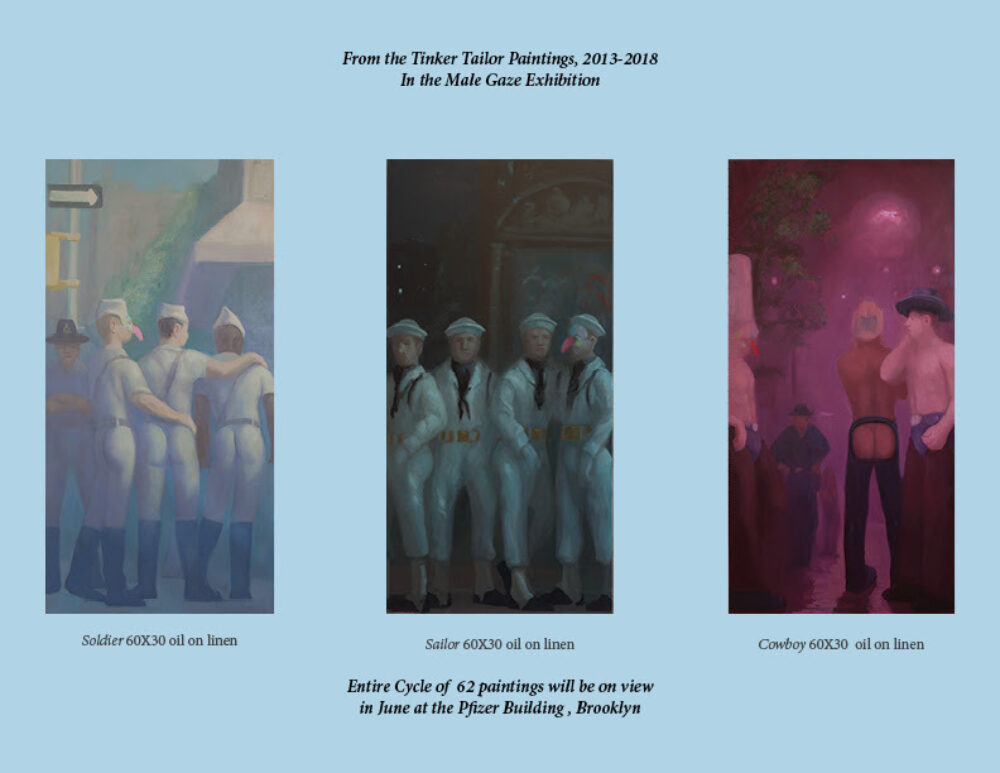 This June, in honor of Stonewall 50, Guggenheim Fellow (2016) and Visual AIDS Artist Member Patrick Webb will install his magnum opus of 62 canvasses, The Tinker Tailor Paintings, on the third floor of the Pfizer building. Started in 2013, worked on during his Fellowship and completed in 2018, these paintings pull together many threads of Patrick Webb's journey with his reinvention of the Commedia dell'Arte clown Punchinello. Each individual canvas is 60 inches tall, while the widths vary from 20 to 36 inches. The characters found in several versions of the British rhyme become a launching point for this carnivalesque world of queerness, multiple identities and non-conforming genders that challenge essentialist notions of desire and being. This uncanny fiction is filled with anachronistic activities (Tinker, Cooper) as well as memories and screen memories of the childhood experiences (Indian Chief, Circus) of a cis queer man. The final 18 characters were inspired by a stream of consciousness riff on the rhymes and bring the entire series into an even more biomythographical frame, fulfilling an arc of possibilities for this everyqueerman.
Webb has spent the last 40 years developing his painting to build pictorial worlds from his imagination. Influenced by 20th century painters as varied as Jared French, Jacob Lawrence, Balthus and early and late Philip Guston, Webb also, like those painters, looks to earlier painting for pictorial strategies to create a convincing visual fiction. From the beginning of his life as a painter Webb always insisted on a narrative or psychological genesis to his paintings. Since the introduction of the Punchinello figure in 1990 as central actor on the stage of his imaginary, Webb both presents and does not present in the narratives of his paintings. As the artist has said of Punchinello, "he is I and not I."
This exhibition will mark the first time that The Tinker Tailor Paintings have been collected in one space and installed as the artist intended. Although portions of the cycle have been previously shown at the Painting Center, the Schaffler Gallery at Pratt Institute and most recently at the Leslie Lohman Museum of Gay and Lesbian Art, it was always the intention of the artist for the entire cycle to be installed as a group. A 40 page catalog with reproductions of the entire cycle, an essay by Jonathan David Katz, notes from the artist and a selection of preparatory sketches and drawings, will be available.
Open reception on June 1, 3-6PM
Gallery hours:
Monday-Saturday: 11AM-5PM & by appointment