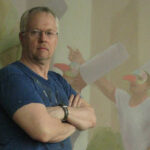 Patrick Webb
b.1955
Patrick Webb has been painting for almost 40 years. He uses digital tools in recording, arranging, and considering his work however it is in the mind-made world -- the proprioceptive experience of smearing, spreading, layering and scraping of paint that he finds himself. Since 1990, he has represented the experiences of a contemporary version of the Commedia dell'Arte figure Punchinello -- his Punchinellois an American cousin to the famous Italian clown. His work is in many collections both public and private in the US and Europe. He has had over 25 solo shows and been included in numerous group shows. Webb received grants from the John Simon Guggenheim Memorial Foundation in 2016, the National Endowment for the Arts, the Ingram Merrill Foundation, the Art Matters Foundation, and the PRATT Faculty Development Fund. He was a member of the Painting Center in NYC for 10 years and is represented by Ray Wiggs Gallery in Provincetown MA. He is a Professor at PRATT Institute and has been a visiting artist at many institutions. Webb's paintings are included in Weinberg's "Male Desire" published by Abrams and books by Gmunder Publishing and Scribner Books as well as Jonathan Katz's ART AIDS AMERICA that accompanied the multi-city tour of the homonymous exhibition. His work has been reviewed in Art News, Provincetown Arts, New York Sun, City Arts, Provincetown Arts, The New Yorker, Art & Understanding, and the Georgia Review among many publications.
Read Less Read More
One of the long standing questions regarding my paintings is my insistence on the inclusion in my work of the strange clownish figure of Punchinello. Here I will try and explore some of what he means and why I choose to include him. My Punchinello is a cousin of that found in the Italian commedia dell'arte, yet with a difference. As Nancy Grimes writes in her essay for my first Punchinello show in 1993, "Webb's Punchinello is slimmer, without hump, driven by his sexual appetite and desire to participate." I first met Pulcinella in GD Tiepolo's frescos in the Ca' Rezzonico in Venice in 1989 and then later in his great series of drawings of Pulcinella. In these paintings and drawings Teipolo explores the life of his figure. In the process, all the familiar trappings of the ordinary are explored, culminating in his death and resurrection—shifting that life from the ordinary to the extraordinary. What I share with Tiepolo is the belief that we are the heroes of our lives. I found a mask in a Venetian shop that year, 1989, with a red nose like Tiepolo's Pulcinella but also the diamond pattern I associated with Harlequin. I was immediately attracted to both the Tiepolo Pulcinella and this carnivalesque mask. I later came to understand that this mask was not the contemporary Pulcinella who has a black bulbous nose and buffoon character, but rather my mask is similar to the mask of Il Capitano, a figure of power and even brutishness in the commedia dell'arte improvisational stories. I like this fusing of the outsiderness of the traditional Pulcinella character with the force of Il Capitano. Thus my Punchinello is a distant cousin to the Italian Pulcinella reformed for my own expressive needs. He offers me a surrogate—both I and not I, both other and Other—whose experiences double mine, both real and imagined. By giving me a malleable but repeatable figure these queer stories unconceal the movement into being. There is an uncanniness that emerges with his presence in these scenes that corresponds to my own sense of the strangeness of psychic life. For me the question of meaning in painting remains a central and fascinating exploration. My continued use of the Punchinello figure underscores my conviction that the meaning of a painting is the intersection of the form of painting, with its balance between void/space, volume/form and shape/surface, and how such pictorial dynamics impact and represent subject matter.
EDUCATION
1977-9 Yale University, New Haven, CT, M.F.A.
1977 Skowhegan School of Painting and Sculpture, Skowhegan, ME
1973-6 Maryland Institute/College of Art, Baltimore, MD, B.F.A.
GRANTS AND AWARDS
2016 John Simon Guggenheim Memorial Fellowship
2004,8,11 PRATT Institute Faculty Development Grant
2007 MTA Arts for Transit Finalist
1998 Thomas B. Clarke Award in Painting, National Academy Museum
1995 Ingram Merrill Award in Painting
1992 Art Matters Inc. Fellowship
1989 Ingram Merrill Award in Painting
1984.6.8 National Endowment for the Arts Fellowship
SOLO EXHIBITIONS
2018 AT HOME WITH PUCNHINELLO, Rice Polak Gallery, Provincetown MA
2016 PAINTINGS Rice Polak Gallery, Provincetown, MA
2014 FIRE! Rice Polak Gallery, Provincetown MA
2013 LOVE'S PROGRESS: 1989-2013, The Painting Center , NYC , NY
2012 ON THE BEACH AT NIGHT. The Painting Center, NYC , NY
2012 PAINTINGS, Rice Polack Gallery Provincetown MA
2011 NIGHT & DAY, Julie Heller Gallery Provincetown MA
2010 PUNCHINELLO AS OTHER, The Painting Center, NYC, NY
2008 25 YEARS OF WORK, Provincetown Art Museum, Provincetown, MA
2007 PROVINCETOWN-NEW YORK, Julie Heller Gallery, Provincetown
2005 CHEAT, Julie Heller Gallery, Provincetown, MA
2003 HOME, Julie Heller Gallery, Provincetown, MA
2002 PUNCHINELLO'S CITY, CJG Projects, NYC, NY
2001 PUNCHINELLO YOUNG , Julie Heller Gallery, Provincetown, MA
1999 IN NEW YORK WITH PUNCHINELLO, Erector Square Gallery,
New Haven, CT
1999 PUNCHINELLO UNDRESSED, Julie Heller Gallery, Ptown, MA
1998 PUNCHINELLO WORKS OUT (PWO). Cortland Jessup Gallery,NYC
1996 PUNCHINELLO GOES WEST, Julie Heller Gallery, Provincetown,MA
1995 PUNCHINELLO IN AMERICA, 55 Mercer Gallery , NYC, NY
1993 PUNCHINELLO PAINTINGS, Amos Eno Gallery, NYC, NY (catalog)
1990 FORUM GALLERY, Minneapolis, MN
1988 CAPRICORN GALLERIES, Bethesda, MD
1987&5 ALPHA GALLERY, Boston, MA
1985&9 KENDALL GALLERY, Wellfleet, MA
1981 ALLEN PRIEBE GALLERY, Univ. of Wis., Oshkosh, WI
1980 RIPON COLLEGE, Ripon, WI
TWO PERSON SHOWS
1997 AN INTRODUCTION, Cortland Jessup Gallery, NYC, NY
1995 FOOL'S DAY, WEBB & IVIE , Tatistcheff-Rogers Gallery, CA
1992&3 PROVINCETOWN GROUP GALLERY, Provincetown, MA
1987&8 EAST END GALLERIES, Provincetown, MA
SELECTED GROUP EXHIBITIONS
2015-17 AIDS ART AMERICA curator J.Katz, Tacoma Museum, MOCA, Bronx MUS, Alphawood Gallery Chicago
2015 I WANTED BODY AND VICE VERSA curator Chris Steigler, Visual Aids web
2014 PRATT FOUNDATION FACULTY EXHIBITS, PRATT ,Bklyn (2009,7,3,1, 99)
2014 SECRETLY, FREQUENTLY (COWBOY DRAG) curator Antjony Easton VA
2013 RECENT ACQUISITIONS, Leslie Lohman Museum Gay and Lesbian Art, NYC
2013 AMERICAN NOIR INTO A DARK PAST curator Robert Atkins Visual AIDS Web Gal.
2012 NO WASTED WORDS NO ILLUSIONS curator Ann Northrop Visual AIDS Web Gal.
2011 THE SWORD OF DAMOCLES The Painting Center ,NYC, NY
2010 SMALL WORKS INVITATIONAL, The Painting Center, NYC, NY
2010 NEW WALLS /FRESH PAINT, The Painting Center, NYC, NY
2010 LIC GRID, Acumen , LIC , NY
2010 I REMEMBER, Julie Heller East Gallery, Provincetown, MA
2009 INTERIORS, Julie Heller East Gallery, Provincetown, MA
2009 MUDHEAD,S Julie Heller East Gallery, Provincetown, MA
2009 SEASCAPE, Julie Heller East Gallery, Provincetown, MA
2009 TOP TO BOTTOM:A HUDSON RIVER ARTS MAP, Hopper House, Nyack NY
2009 THE BINS EXHIBITION, Fine Arts Work Center , Provincetown MA
2008 CARBONE. GRIMES & WEBB, The Painting Center , NYC NY
2007 ECLIPSE curator Laura Gilbert Visual AIDS online gallery
2007 LIFEDRAWING, LGBT Center, New York City, NY
2006 WEBBWORKS, Fine Arts work Center, Provincetown, MA
2005 MALE DESIRE, Mary Ryan Gallery, NYC, NY
2005 CROSSING DISCIPLINES, curator Donna Moran, Schaffler Gallery
PRATT Institute, Brooklyn, NY
2005 THE BODY AND ITS DANGERS, curator by Patrick Webb, The Painting
Center, NYC NY
2004 PYROLYSIS curator Virgil Wong Visual AIDS online gallery
2004 ARTIVIST FILM & ART FESTIVAL, Egyptian Theater, Los Angeles, CA
2004 NEO QUEER, CoCA, Seattle, WA
2003 STIRRINGS curator dirk Dehner and Sharpe Visual AIDS online gallery
2002 TRANSFORMATIONS, Sakia City Museum Gallery, Osaka, Japan
2002 PRATT RESPONDS TO 9/11, Schaffler Gallery PRATT Institute Bklyn NY
2001 RITUAL , DAM , Detroit , MI
2001 ALUMNI CHOICE, Works on Paper, Yale University, New Haven, CT
2001 Self Interest: Autobiography and Myth In Recent Figurative Art,
curator Nancy Grimes, RC FINE ARTS, Maplewood NJ
1998 THE 173rd ANNUAL EXHIBITION, National Academy Of Design, NYC, NY
1998 EMBODIED FICTIONS, Saint Mary's College, Park Hall, MD ( catalog)
1998 TROUBLING CUSTOMS, Ontario College of Art & Design Gallery
Katherine Lane Weeds Center, The Sch.of the MFA , Boston
1997 PROVINCETOWN IN HUDSON, Carrie Haddad Gallery, HUDSON NY
1995 THE NEW AMERICAN FAMILY, SUNY , Stoneybrook Gal, Stoneybrook, LI
1995 THE COMMON MYTH: icon and symbol in art today, curator Ludwig
Datone´, Park Avenue Atrium, NYC, NY
1995 SPIRITS AND HEROES, Peter Madero Gallery, NYC, NY
1994 A SENSIBILITY AND THE SENSES, Lowe at the Hudson Guild, NYC, NY
1994 TONGUE 'N CHEEK, 450 Broadway Gallery, NYC, NY
1993 MEMENTO MORI: remembering in t the age of AIDS, Open Space Gallery
Allentown, PA
1993 NEW OLD MASTER,, curator Paula Escobar, Marymount Col., NYC, NY
1993 ASPECTS OF FIGURATION: SELECTIONS FROM THE NEW YORK
ACADEMY, Hackett Freedman Gallery, San Francisco, CA
1991 FIGURING IT OUT, curator Nancy Grimes, Daniel Quinn Gal, LIC,. NY
1991 TOMPKINS, WEBB, ZAZARRO, RINALDI, VIOLA , Claude Gallery,
East Chester, NY
1990 SELECTIONS curator Connie Butler, 55 Mercer St., NYC, NY
1990 POSITIVE ACTIONS: VISUAL AIDS, Clocktower Gallery, Longwood
Gallery, D.C. 37 Gallery, New York, NY
1989-90 ART AND THE LAW; West Co., Bally's Casino, Reno NV; AK Univ
Jonesboro AK; Robert I. Kahn Gallery, Houston , TX ;
MN Museum of Art, St. Paul, MN (catalog)
1988-9 ART AND THE LAW, West Co. ; Metro Toronto convention Center,
Toronto CAN; Virginia Commonwealth U., Richmond
VA; Temple U, Phil. PA; Rose Art Mus , Waltham ,MA(cat)
1989 "...the Subject is AIDS", Nexus Art Center, Atlanta, GA(cat)
1987 "CURATOR'S CHOICE", curator Bill Arning, BWAC, Bklyn, NY
1987 MAINSTREAM AMERICA; THE COLLECTION OF PHIL DESIND;
Butler Institute of American Art, Youngstown OH(catalog)
1984 "MODERN MASTERS OF CLASSICAL REALISM", Priebe Gal, UW-O, WI
1983 SUMMER SHOW, Odyssia Galleries, New York, NY
1983 NEW TALENT, Alpha Gallery, Boston, MA
1982 EVERSON BIENNALE, curator Nancy Hoffman, Everson Mus, Syr , NY
COMMISSIONS
2007 PUNCHINELLO JUGGLES FOR LOLLY POP, Milwaukee, WI
1995 ART MATTERS, 2 Lithographs, NYC, NY
1995 Barry Skovgaard, Landscape, Watermill, NY
1993 William Jennings Doyle, portrait, Boston, MA
1992 Phillip Gambone, portrait, Boston, MA
1988 SHARF MARKETING GROUP, installation, Boston
1987 SHARF MARKETING GROUP, installation, New York
1986 GLICKENHAUSE & CO., mural installation, New York
1980 Donna Kennedy, portrait, Las Vegas, NV
SELECTED PUBLIC & CORPORATE COLLECTIONS
BOSTON PUBLIC LIBRARY, Boston, MA
CHEMICAL BANK, New York, NY
GLICKENHAUS & CO., New York, NY
HORTON & CALAMIFDE, New York, NY
INTERNEURON INC., Boston, MA
JANE VOORHEES ZIMMERLI ART MUSEUM, RUGERS UNIVERSITY, New Brunswick
LESLIE LOHMAN MUSEUM of GAY & LESBIAN ART ,NTC, NY
OTIS ELEVATOR, New York, NY
PIER-FINE ASSOCIATES, New York, NY
PROVINCETOWN ART ASSOCIATION & MUSEUM, Provincetown, MA
ROSE ART MUSEUM , Brandeis University, Waltham MA
QUEENSBORO COLLEGE MUSEUM, CUNY, Queens, NY
MICHELLE ROSENFELD, INC., FINE ARTS, Ramsey, NJ
SHARF MARKETING GROUP, New York & Boston
UNIVERSITY OF WISCONSIN-OSHKOSH, Oshkosh, WI
PARTIAL BIBLIOGRAPHY
"Cape Cod Artists: People and Places" D Forman, Scribner Books, June 2014
"Protest, Memorial: AIDS in the Art World " Barbara Pollack, Art News May 2014
"Patrick Webb ; The Heroic Journey of Punchinello." Philip Gambone. ,Provincetown Arts Magazine ,
2012/14
New York One interview "Sword of Damocles " 11/29/11
" Punchinello Hits the Gym", David Cohen, NY Sun, 9/24/10
"Patrick Webb: Punchinello as Other and Caren Canier " John Goodrich, City Arts, 9/14/10
" Stripped" & "Completely Stripped", Bruno Gmunder Publication, 7/ 09
"David Carbone, Nancy Grimes & Patrick Webb" Alex Taylor, Art News , 1/09
"Treasures of Gay Art from the Leslie/Lohman Gay Art Foundation" edited Peter Weierman,
All Saints Press, 2008
"Webb Finds Truth in Anonymity of an Everyman" Sue Harrison, Provincetown Banner 3/15/08
Kunitz, Stanley " Patrick Webb:: 25 Years of Work" , catalog notes , PAAM, 2008
" Nancy Webb by Patrick Webb", catalog essay Provincetown Art Assoc. & Museum3/06
reprinted in 2006 summer issue of Provincetown Arts
" The Body and Its Dangers" , Robert Ayers, Art News, summer 2005
" Male Desire: The Homoerotic in American Art" Jonathan Weinberg, Abrams 2005
"Webb Takes an Outsider's Look". Deborah Minsky, Provincetown Banner, 7/17/03
Cover, reproductions and introduction, The Georgia Review, summer 2002
"Punchinello Works Out", Jonathan Weinberg, catalog essay 5/98
Listings, New Yorker Magazine , April 6, 1998
"Provincetown On Hudson", Ned Depew, Provincetown Arts, 1997-8
"A Punchinello Page" (illustration) ; College Art Association) Journal , winter 1996-7
"Patrick Webb's Adventures With Punchinello" , Stephen Greco, POZ Dec 96/January 97
"Portrait of an Artist", Lynn Stanley, Provincetown Magazine, 8/22/96
"Punchinello Goes West", Mark Doty, catalog essay 8/96
"A Life Reinvented: The Paintings of Patrick Webb", Laurie Fitzpatrick, A & U1/96
"Punchinello In America", Laurie Fitzpatrick, Art & Understanding, 10/95
"Eros and Angst", Phillip Gambone, Bay Windows 7/29/93
"Punchinello Paintings, by Patrick Webb", Nancy Grimes, catalog essay,12/92
"Stonewalling", Thomas J. Jackson, New York Native, 2/93,6/95
"Finding Those Who Fall Before", Gambone , Bay Windows, 8/20/92
"Real Implications", Mary Verrill, New North Artscape, 2/90
"Coat of Many Colors", Mary Abbe, Star Tribune, Minneapolis., MN, 1/25/90
"...the subject is AIDS", Art South 5/89
"Alone and Embattled", Walter Wadas, Bay Windows, Boston , MA 12/86
"Painterly Realists", St. Louis Courier, St. Louis, MO,86
"Rhythms of New York and Promising Young Talent", C. Temin, Boston Globe, 6/23/83
PERFORMANCE
SETS & LIBRETTO, STRAVINSKY'S PULCINELLA, Kloppenberg Dance, EVENTS at Dancespace, St. Mark's Church, NYC, NY 3/00
SETS for Kloppenberg Dance, STREETS OF GOLD, Kloppenberg Dance music by Britten, Merce Cunningham Studio, NYC, NY, 4/98
SETS for Kloppenberg Dance, JOURNEY, Kloppenberg Dance, music by Wes York, EVENTS Danspace , St. Mark's Church, NYC, NY, 5/97PERFORMANCE, NOT QUITE A SONATA, solo for Patrick Webb, Kloppenberg Dance, EVENTS Danspace , St. Mark's Church, NYC, NY, 5/97
SETS for Kloppenberg Dance, RATMAN, performed by Brian Kloppenberg, music byEleanor Hovda, commissioned by the Jerome Foundation, Freud Festival 1997, Washington Square Church & EVENTS Danspace , St. Mark's Church, NYC, NY 5/97
SETS for Kloppenberg Dance, FAULT, performed by Brian Kloppenberg, Kloppenberg Dance, Mulberry Street theatre
SETS & INSTALLATION & PERFORMANCE, LIFE DRAWING,Choreography Brian Kloppenberg, Dancers: Brian Kloppenberg & Patrick Webb, Music: Puccini Swarthmore College Faculty Concert 1995; Kloppenberg Dance, Mulberry Street Theatre 5/96 NYC, NY & PTAPS Theater, Columbus, Ohio 6/96
TEACHING EXPERIENCE
2010- present PRATT INSTITUTE, Brooklyn, NY, Tenured Professor
2009-10 PRATT INSTITUTE, Brooklyn, NY, Professor
2004-2009 PRATT INSTITUTE, Brooklyn, NY, Associate Professor
2007 UNIVERSITY OF NEW HAMPSHIRE , Durham , NH Visiting Artist
2000-2004 PRATT INSTITUTE, Brooklyn, NY, Adjunct Associate Professor
1995-2000 PRATT INSTITUTE, Brooklyn, NY, Visiting Assistant Professor
1998 &2003 MARYLAND INSTITUTE/ COLLEGE OF ART. Balt., MD, Visiting Artist
1998&2003 JOHNS HOPKINS, Baltimore, MD, Visiting Lecturer
1996 SWARTHMORE COLLEGE, Swarthmore, PA, Visiting Artist
1995&85 YALE UNIVERSITY, New Haven, CT, Visiting Artist
1995&90 ST. MARY'S COLLEGE, St. Mary's, MD, Visiting Artist
1994&2 CRANBROOK, Detroit, MI, Visiting Artist
1992-4 NY ACADEMY OF ART, NYC, NY, Instructor
1993 FLORIDA INTERNATIONAL UNIVERSITY, Miami, Visiting Artist
1993 RHODE ISLAND SCHOOL OF DESIGN, Providence, Visiting Artist
1989 MINNEAPOLIS COLLEGE OF ART AND DESIGN, Visiting Artist
1988 BRANDEIS UNIVERSITY, Waltham, MA, Visiting Artist
1981-3 CORNELL UNIVERSITY, Ithaca, NY, Assistant Professor
1979-81 UNIVERSITY OF WISCONSIN-OSHKOSH, Oshkosh, WI, Lecturer