Past Event
Please Stay Home: Darrel Ellis in Dialogue with Leslie Hewitt and Wardell Milan
Carpenter Center for the Visual Arts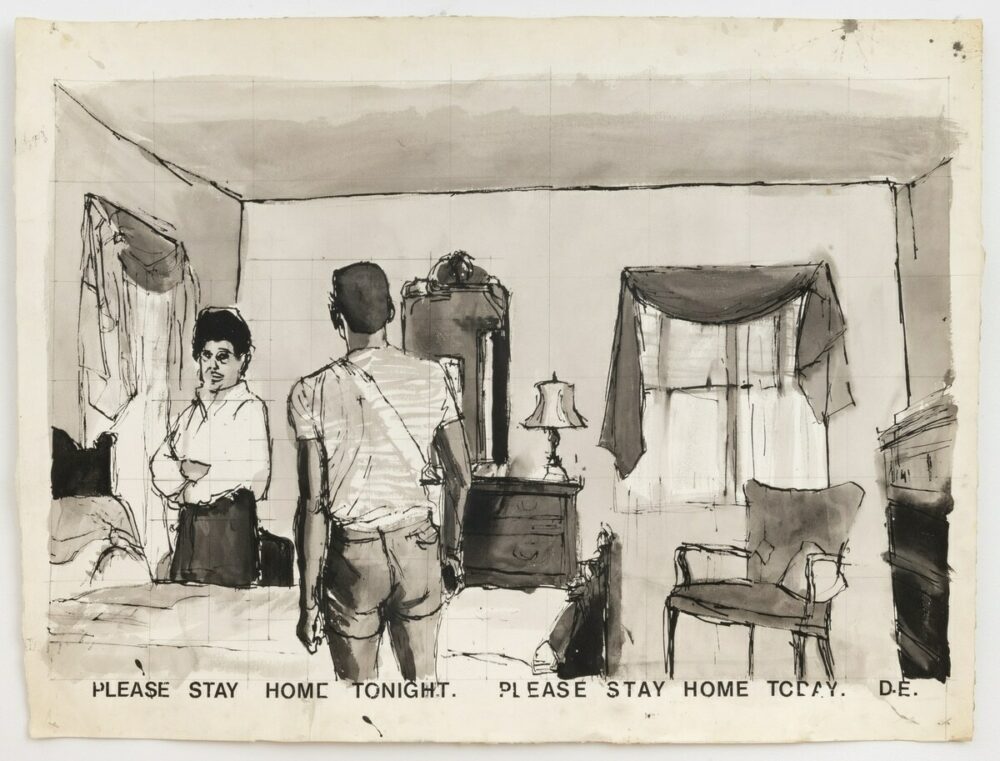 Darrel Ellis, Untitled (Please Stay Home Tonight, Please Stay Home Today), ca. 1981-1985. Graphite, pen, ink, and ink wash on paper. 30 x 50 inches. Courtesy of Candice Madey, New York. Photo: Adam Reich.
The Carpenter Center for the Visual Arts is pleased to present Please Stay Home, an exhibition featuring the work of Darrel Ellis, Leslie Hewitt, and Wardell Milan. An additional contextual installation will include photographs by the artist's father, Thomas Ellis, and close friend, artist Allen Frame. Centered on a less recognized body of Ellis's work and featuring new commissions by Hewitt and Milan, Please Stay Home is guest-curated by Makeda Best, Richard L. Menschel Curator of Photography at the Harvard Art Museums.
Through a groundbreaking experimental art practice that fluidly merged painting, printmaking, and photography, Bronx-born artist Darrel Ellis's (1958-1992) work engages intergenerational memory, photographic practice, representation, and place. Ellis is known for his unusual technique that involved photographing images projected by an enlarger and introducing sculptural objects into the picture plane. The resulting works convey a sense of perpetually uncertainty and yet visceral tactility. Please Stay Home will pair Ellis with artists Leslie Hewitt (b. 1977) and Wardell Milan (b. 1977), who will create new work responding to his practice. The untimely death of Ellis at age 33 of AIDS-related causes cut short the career of a visionary artist, who is finally being recognized as a forerunner to key contemporary interests in appropriation, re-photography, and intersections between photography and sculpture. For nearly 30 years, Ellis's friend the artist, curator and writer Allen Frame archived and preserved the Ellis archive in consultation with his family. This exhibition focuses specifically on his interiors – scenes that feature his mother, sister, and extended family members, as well as places he only knew through photographs. These intimate scenes invite us to consider the role of the family archive, self-expression, photography's social and cultural contexts, and impact on the formation of Black identities. Artists Leslie Hewitt and Wardell Milan will debut newly commissioned projects made in dialog with Ellis's life and work.
---
---
Related Artists