Past Event
RU Talk: Presentation by Aimar Arriola w/ Julian De Mayo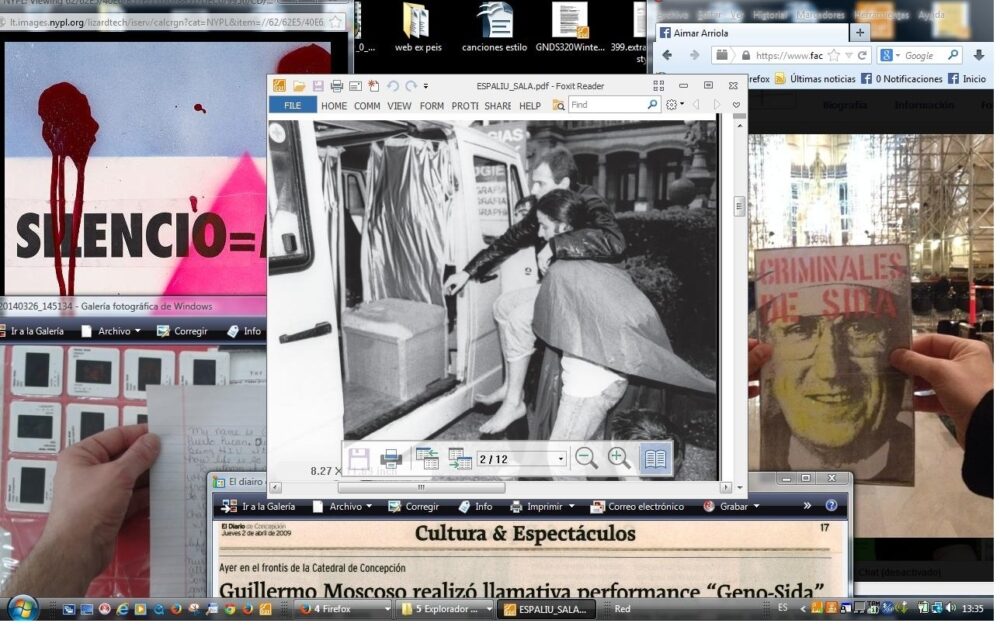 The HIV/AIDS crisis continues to be a global phenomenon of unprecedented dimensions and yet, besides the outstanding intellectual and artistic achievements of the last three decades in the fields of cultural analysis and art and curatorial work to make sense of the crisis' impact, the focus has predominantly been on North American and Central-European artists and cultural practitioners.
But what of the visuals, aurals, actions, ideas, lives, which have often been obscured by the hegemony of the North? How could the study of the aesthetic and performative production around AIDS in the "global South" expand our visual and political cultures? Following philosopher Beatriz Preciado, the South here should not be understood as a simple geographic area but "a counter-topia"* that allows us to deconstruct the capitalist and colonial order of today.
Aimar Arriola's recent colaborative research and curatorial projects address these issues with a focus on selected case studies from Spain and Latin America. In this presentation, Aimar will share some reflections and visuals that constitute an archive in progress.
He is joined by Julian De Mayo who is currently researching the demonstrations, media, lives, and legacy of the Latino Caucus of ACT UP New York. Together, they will share meaningful experiences and materials that aim to acknowledge the practices around AIDS often overlooked in the English-speaking world and enrich our understanding of contemporary visuality at large.

Learn more about Aimar:
Residency Unlimited page
Visual AIDS interview

(*) Statement of the seminar "Campceptualisms of the South" (MACBA, Barcelona, Nov 2012), directed by Preciado.
Bios:
Aimar Arriola is the 2014 Residency Unlimited & Visual AIDS Curator in residence.
Julian De Mayo is an M.A. Candidate in Media Studies at The New School and is a Member of the research-group Democratizing the Archive, also at The New School. He recently organized Presente! at the NYPL, a two-panel program dedicated to telling the ongoing story of Latino AIDS activism in New York City.
About:
Visual AIDS utilizes art to fight AIDS by provoking dialogue, supporting HIV+ artists, and preserving a legacy, because AIDS is not over.
Residency Unlimited (RU) is a not for profit art organization that fosters highly customized residencies through strategic partnerships with collaborating institutions. Moving beyond the traditional studio model, RU is particularly committed to promoting multidisciplinary practices and to building lasting connections between residents and the broader arts community.
Image Caption: screen-shot of the researcher's desktop, including (in clockwise, starting from the center): Pepe Espaliú's "Carrying", 1992 (San Sebastian, Basque Country). Original photo: Ricardo Iriarte; spontaneous intervention by Aimar Arriola & Camilo Godoy (Queerocracy) holding ACT UP's "Criminales de SIDA" poster during a mass at St. Patrick Cathedral, March 21 2014 (poster printed from NYPL's Digital Gallery); newspaper clipping covering Chilean artist Guillermo Moscoso's action "Geno-Sida", 2009; research image, Visual AIDS, March 2014; detail of ACT UP's poster "Silencio = Muerte" poster [Verso: 30 gays arrested each night in Buenos Aires. Shame!] NYPL Digital Gallery. Image recently shown in the "Presente!" panel-series organized by Julian De Mayo, NYPL.
---