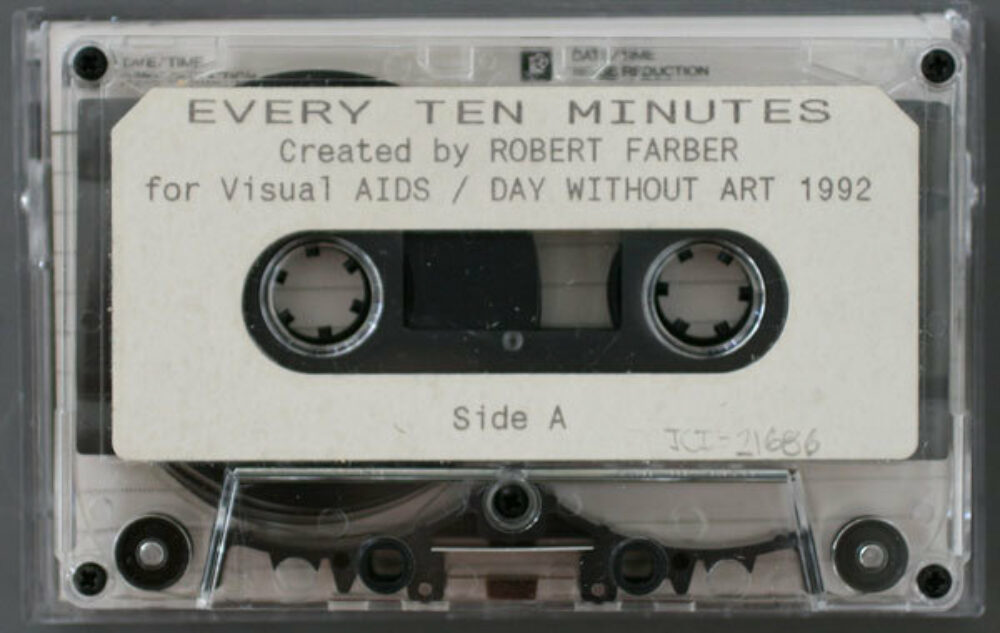 Created by Robert Farber (1948-1995) for Visual AIDS, "Every Ten Minutes" is an audiotape in which the sound of a bell tolls once every 10 minutes, representing the (1991) statistic in which every 10 minutes someone dies of AIDS. The recording was made in the bell tower of The Riverside Church. Every Ten Minutes was distributed by Visual AIDS for Day Without Art, December 1, 1991 and 1992.
Robert Storr, a curator at the Museum of Modern Art in New York, described the Projects Room exhibition of Farber's work at the museum as follows:

"The only genuine work of art in the room was Robert Farber's. Disembodied but deeply resonant, it consisted of the subdued ringing of a bell. The piece, Every Ten Minutes, sounded at the interval cited in the title. Situated near the Modern's ground floor entrance, the Projects Room, with its barren display, acted as an echo chamber, broadcasting the single, faint, intermittent musical note throughout the Museum's central hall. Amidst the bustle of the lobby crowds its testimony was arresting and eloquent.

We in the Projects Program were not the only ones to make use of Robert's haunting piece. So, too, did The Whitney Museum of American Art, The New Museum of Contemporary Art, and private galleries around the city, including those of such respected dealers as Leo Castelli and Marian Goodman. In each location the same simple but profound imaginative event occurred: sound became memory and thought; as these memories and thoughts multiplied, they linked together the diverse population that heard the ringing and transformed them into a collective mind focused, in the silence bracketed by each muted clang, on AIDS and all that the disease has come to mean in this country and around the world."
---