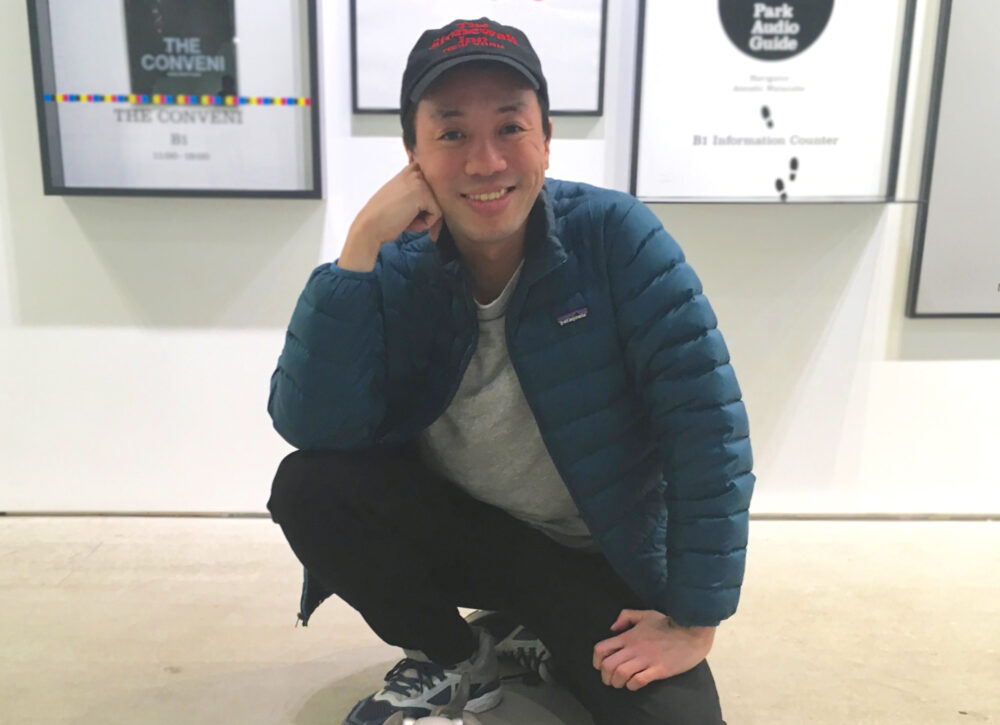 Sho Akita is Visual AIDS' eighth International Curatorial Resident. Originally planned for April 2020, Sho's residency took place virtually throughout Spring 2021. During his residency, Sho researched the life of Japanese artist Teiji Furuhashi (1960–1995), a founding member of the performance collective Dumb Type and an outspoken AIDS activist in Japan.
"LIFE WITH VIRUS": Teiji Furuhashi in New York
On April 30, 2021, Sho Akita hosted "LIFE WITH VIRUS": Teiji Furuhashi in New York, an online conversation that brought together friends of Teiji Furuhashi from Japan and the US to shed light on the cultural exchange that he facilitated between New York and Kyoto. Participants included the renowned artist and sex worker advocate Bubu de la Madeleine, composer Toru Yamanaka (aka DJ Lala), and the curator Barbara London, who acquired Furuhashi's work for the Museum of Modern Art.

Streaming Presentation: Dumb Type, S/N
In conjunction with the event, Visual AIDS and Normal Screen hosted a streaming presentation of Dumb Type's 1994 performance S/N, a provocative response to the AIDS crisis in Japan.

To introduce the online presentation, Sho Akita invited Akiko Mizoguchi to reflect on S/N's nuanced consideration of sexuality and its impact on her own identity and study.
Akiko Mizoguchi is a queer visual culture theorist based in Yokohama, Japan. Her award-winning Japanese-language books Theorizing BL As a Transformative Genre and its Dialogue Edition have been translated into Chinese and Korean.
Translation of Furuhashi's coming out letter

To conclude Sho's residency and facilitate continued research into Teiji Furuhashi's legacy, Visual AIDS commissioned the first English translation of the artist's coming out letter, Teiji Furuhashi's New "Life with Virus": Celebrating My Announcement of HIV Infection. The translation is published on the Visual AIDS blog — click here to read it.
About Teiji Furuhashi and Dumb Type
Founded in 1984 by fifteen art students working in Kyoto and Osaka, Dumb Type's experimental theater projects combine dance and performance with ambitious multimedia installations. Teiji Furuhashi, a central figure in the group, visited New York frequently, performing in drag at the Pyramid Club alongside artists like John Kelly and Lypsinka. He brought the ethos of East Village nightlife to Kyoto, starting a monthly drag party called "Diamonds Are Forever" that continues to this day.
Inspired in part by the AIDS activism he encountered in New York, Furuhashi became a leading voice in Japanese AIDS activism. In 1992, after spending several months in New York, Furuhashi returned to Kyoto and sent a letter to his friends and collaborators titled "LIFE WITH VIRUS," sharing his HIV status and reflecting on the stigma and morality surrounding AIDS. The letter prompted Dumb Type to develop a major new performance responding to the AIDS crisis in Japan. Titled S/N, the performance used the the notion of a "signal to noise" ratio as a structuring metaphor, challenging Japan's silence about AIDS with explicit discussion of gay identity, stigma, sex work, and border politics. Incorporating a two-level set, elaborate choreography, live video, and projection, the performance was critically acclaimed and toured to more than twenty cities around the world.

For more information about Teiji Furuhashi and images of his artwork, see his page on the Visual AIDS Artist+ Registry.

About Sho Akita
Sho Akita is a film/video curator working in Tokyo, Japan, where he runs Normal Screen, a screening platform for queer film from around the world. He works with artists, scholars, friends, and cinemas to create spaces where marginalized voices and bodies can be heard and seen. He also writes a bi-monhly column about movies that deal with HIV and AIDS and has programmed shorts and feature films for Tokyo AIDS Week. For the past six years, Sho has screened Visual AIDS' Day With(out) Art video projects with Japanese subtitles. These screening events have been one of the few opportunities to have nuanced dialogue around the subject of HIV and AIDS in Tokyo.
For more information about Sho's research and past work, read his introductory blog post here.
---