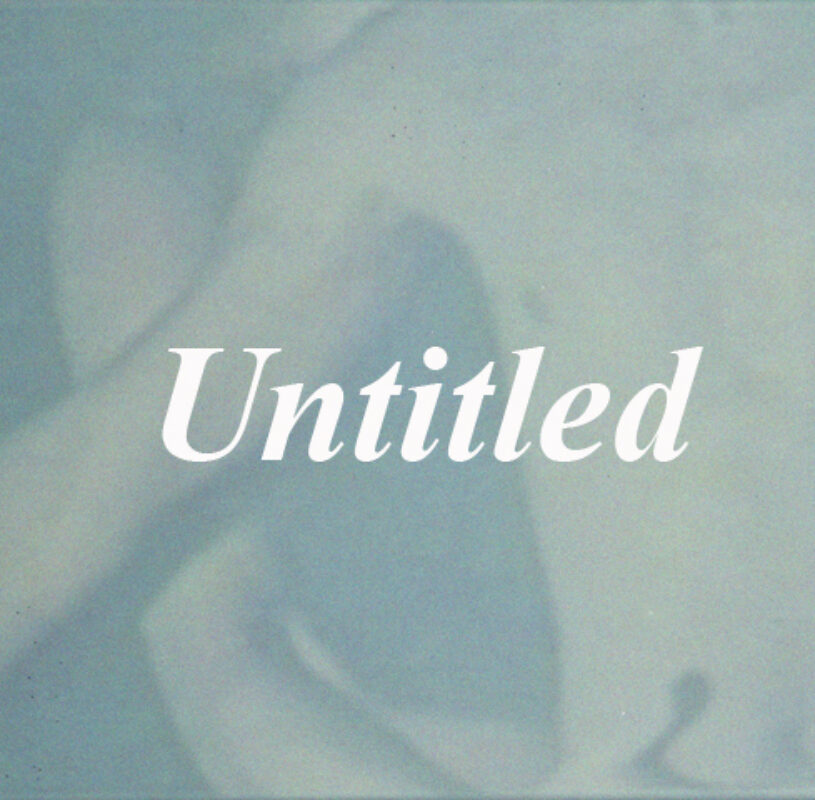 Visual AIDS observed Day With(out) Art / World AIDS Day, with simultaneous, free screenings of Untitled, a film by Jim Hodges, Encke King, and Carlos Marques da Cruz.
Untitled screened at over 55 major museums, arts organizations, community groups and colleges throughout New York City and across the United States.
Untitled (2010, DVD, 60 minutes, Color, Stereo) Beginning with a reflection on the early AIDS epidemic, Untitled eschews a linear narrative to introduce a fractious timeline, moving from the sublime to the tragic and back again. By juxtaposing mainstream network news, activist footage, artists' work, and popular entertainment from the last turbulent decades, Untitled references regimes of power that precipitated a generation of AIDS and queer activism and continues today with international struggle and expression.
In 2010, artist Jim Hodges was invited to give a lecture on the billboard
project of Félix González-Torres at San Antonio's Artpace. He teamed up with fellow filmmakers Carlos Marques da Cruz and Encke King to create Untitled. Neither a portrait or a documentary about González-Torres, the film was an attempt to place the viewer "in his room," that is to say, the filmmakers worked to create, for the viewer, an understanding of the influences and contexts within which González-Torres was working. In Hodges's words, "In this way, the framing of the artist can become a way to project any number of people, endlessly."
Untitled can therefore be considered to be as much about González-Torres and the AIDS crisis as it can be seen as grappling with the continuum of global dehumanization.
Creative Time & Visual AIDS Public Program & Screening:
How do we weave the long and critical history of AIDS activism into the movement today? How can we understand critical and cultural interventions like Untitled and Day With(out)Art in context of Occupy actions? How can we integrate these analysis, and others, into the important goal of identifying a politics of impoverishment?
Screenings: 4:00PM, 5:15PM, 9:00PM - tickets available at the IFC Center box office starting one hour before each show, limit 2 per person.
Screening and Dialogue*: 6:30PM - tickets available *by reservation only

Join Creative Time on December 1 for a special screening event at IFC Center in New York City with Creative Time Chief Curator Nato Thompson, artist Malik Gaines activist Che Gossett and anthropologist and filmmaker Shanti Avirgan.
Featuring respondents:
Malik Gaines is a curator, writer, artist, and an Associate Professor Combined Media at Hunter College. He has organized exhibitions and projects includingKalup Linzy: All My Churen (2006), Talks About Acts (2007), Anna Sew Hoy: Pow(2008), and Colter Jacobsen: Searchin' Vs. Buildin' (2010). Gaines has worked as an independent curator of exhibitions including "Fade: African American Artists in Los Angeles" (2004) for the City of Los Angeles; Effacé (2006) at Steve Turner Gallery, Beverly Hills; Read Me! Text in Art (2007) at the Armory Center for the Arts, Pasadena, CA; and Quadruple Consciousness (2010) at Vox Populi, Philadelphia. Gaines has contributed art criticism and journalism to publications including Artforum, ArtReview, Frieze, The Advocate, ArtUS and Art Papers. He has written catalogue essays for the Studio Museum in Harlem, the 1st Moscow Biennial, the Hammer Museum, among others, and has provided monograph texts for artists including Andrea Bowers, Mark Bradford, Glenn Ligon and Wangechi Mutu. With collaborators Alexandro Segade and Jade Gordon, Gaines is a member of the collective My Barbarian, which has shown performance and video work internationally.

Shanti Avirgan is a writer, researcher, and documentary filmmaker who grew up in Tanzania and Costa Rica and currently lives in Brooklyn, NY. She has worked in alliance with AIDS activist groups including Health GAP, CHAMP and the Student Global AIDS Campaign. Her first feature-length documentary, Pills Profits Protest: Chronicle of the Global AIDS Movement, premiered on the Showtime cable network in 2005 and she recently collaborated with veteran filmmaker Jean Carlomusto on Sex in an Epidemic (2010), an historical documentary about the sexual politics of HIV/AIDS in the United States. Shanti has taught at NYU and Brooklyn College (CUNY) and currently teaches medical anthropology in Brazil, Vietnam and South Africa for the School for International Training / IHP Program in Health & Community.
Che Gossett has been involved in political activism for prison abolitionism and gender self determination, campaigns to end "prostitution free zones" in Washington DC and currently is a steering committee member of the HIV Prevention Justice Alliance. Che is a contributor to the anthology Captive Genders: Trans Embodiment and the Prison Industrial Complex (AK Press) andStand Up: The Politics of Racial Uplift (South End Press) about the criminalization of HIV and abolition as an HIV/AIDS issue, forthcoming this spring.

Moderated by Nato Thompson, Creative Time Chief Curator
---
| | |
| --- | --- |
| | December 1, 2011 |
| | December 1, 2011 |