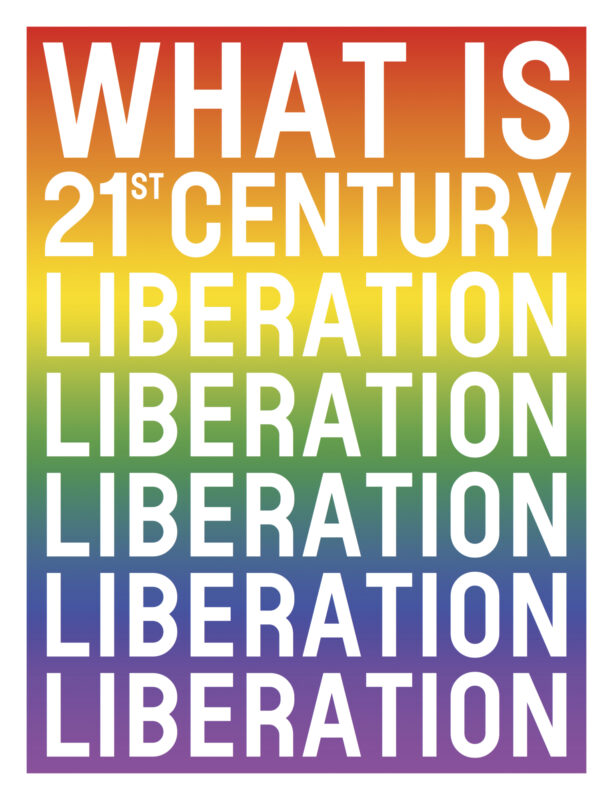 For the 50th anniversary of the Stonewall uprising, Visual AIDS asked an intergenerational group of artists and activists—ALOK, Jason Collins, Winter Collins, Timothy DuWhite, Lola Flash, Tenzin Gund-Morrow, Elle Hearns, Corey Johnson, Bill T. Jones, Elizabeth Koke, and Chris Vargas—to answer the question: What Is 21st Century Liberation?
Their responses compose Visual AIDS' latest broadside project, designed by Avram Finkelstein, co-creator of SILENCE=DEATH, and Rodrigo Moreira.
The project aims to address the complex intersectional issues that link AIDS activism with LGBTQI+ activism, and with expansive forms of social justice activism, both historically and today.
Free broadsides will be available throughout New York City during the month of June, and will be distributed in the thousands by Visual AIDS during the 2019 New York City Pride March for Stonewall 50.
Visual AIDS will also co-present What Is 21st Century Liberation as a large-scale installation at New York Live Arts for the months of June and July.
The project kicks off with a reception at New York Live Arts on June 6, 2019.
If you do not live in New York City, you can order a broadside for the cost of shipping at the Visual AIDS store.

Visual AIDS is grateful to Nike and Zach Augustine for supporting the printing of this broadsheet. Additional support was provided by grants from The Lambent Foundation Fund of Tides Foundation, The Shelley & Donald Rubin Foundation, LOEWE, Alphawood Foundation, and Marta Heflin Foundation. Related programs are supported, in part, by public funds from the New York City Department of Cultural Affairs in partnership with the City Council.

Contributors

ALOK (b. 1991) is a gender non-conforming writer and performance artist.
Jason Collins (b. 1978) is a retired professional basketball player who played 13 seasons in the NBA. In 2013, his public coming out through a Sports Illutrated cover story made him the first openly gay man in one of the four major professional team sports.
Winter Collins (b. 2010) wants to be an engineer when she grows up. Her parents are the artist Liz Collins and the writer and activist JD Davids.
Timothy DuWhite (b. 1990) is a writer, poet, playwright, performance artist, and activist.
Lola Flash (b. 1959) is a photographer and former member of the AIDS Coalition to Unleash Power (ACT UP).
Tenzin Gund-Morrow (b. 2004) is a singer, performer and baker interested in all kinds of science.
Elle Hearns (b.1986) is a co-founding member of the Black Lives Matter movement and the founding Executive Director of the Marsha P. Johnson Institute.
Corey Johnson (b. 1982) is the Speaker of the New York City Council.
Bill T. Jones (b. 1952) is a choreographer and dancer, the co-founder of the Bill T. Jones/Arnie Zane Company, and the Artistic Director of New York Live Arts.
Elizabeth Koke (b. 1985) is the Creative Director of Housing Works.
Chris Vargas (b. 1978) is a video maker, interdisciplinary artist, and the Executive Director of MOTHA, the Museum of Transgender History & Art.
Designers
Avram Finkelstein is a founding member of the Silence=Death and Gran Fury collectives. He has work in the permanent collections of MoMA, The Whitney, The New Museum and The Brooklyn Museum. He is featured in the artist oral history project at the Smithsonian's Archives of American Art, and his book for UC Press, After Silence: A History of AIDS Through its Images was nominated for an ICP 2018 Infinity Award in Critical Writing And Research.
Rodrigo Moreira is a Brazilian visual artist based in NYC working on. His practice includes engagement with queer and immigrant communities in order to collect personal stories. His work has been presented in New York at the Leslie-Lohman Museum, Bureau of General Services Queer Division and Nars Foundation, and has been featured in exhibitions in Brazil, Colombia, Spain and South Korea.
---
| | |
| --- | --- |
| | June 30, 2019 |
| | June 6, 2019 |