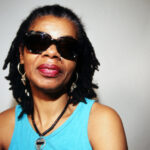 Affrekka Jefferson
1950–2004
Born Paula Jefferson, Affrekka, added the ethnic moniker to her given name when she was 13. Always passionate about drawing, Affrekka holds a Bachelor of Fine Arts degree from New York's School of Visual Arts and has studied everything from painting to construction technology in what has become a lifetime of education and creation for her. "I still believe in the great academic traditions of drawing and painting," she says, "above and beyond the mechanical and technological advances of the last few decades."
Affrekka's artwork -- largely created on wood or linoleum but often with oil on canvas as well -- is powerfully tied to her embrace of African culture and her own family's past, as can be seen in works like "Violation of Africa," above. She proudly shares the fact that she was descended from one of Thomas Jefferson's slaves. Never mistake her, though, for a person who conforms to stereotypes in her art or in her life. "African art remains a most important influence on my life and work, a central theme which permeates my very existence and everything I have to contribute," she says. "And yet, my favorite of favorites remains Rembrandt."
Affrekka, 52, was born and raised in Brooklyn, New York. She was a lifetime member of the Art Students' League, has her art on permanent display at the Bedford-Stuyvesant Restoration in Brooklyn, and is the former Art Director of the Jamaica Arts Council. Her HIV-positive status strengthened her desire to see, learn and achieve more with her life each day. "I cherish the time I have on this earth," she says. "I want to resist every attempt to limit my possibilities and to diminish my growth, so that I am able as a creative woman to say something beautiful, worthy and new."
Above text from TheBody.com interview. Affrekka died of AIDS-related causes in February 2004.
Read Less Read More