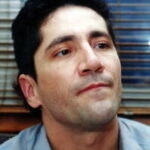 Frank Green used condoms, crutches, nooses, and naked bodies, including his own, in controversial installations and performances. Green died January 23, 2013 at Shaker Gardens from complications of AIDS. He was 55.
"Frank was a formidable intellectual force on the Cleveland avant-garde scene," said, Tom Mulready, "The work was dense, challenging, rigorous."
Green was raised in Parma Heights. He graduated from Valley Forge High School and studied filmmaking at Kent State University.
He performed in New York from 1980 to 1988, then moved to Tremont. He appeared in the Sonic Disturbance Festival and in four Cleveland International Performance Art Festivals. He performed the AIDS-themed "Scarlet Letters" at Cleveland Public Theater, at Ohio State University, in Calgary, in Phoenix and elsewhere.
Bio via Grant Segall at Cleveland.com
Read Less Read More