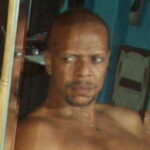 I was born in Chicago in 1952. I've drawn all my life. Mostly cars. I have been doing figure drawing since I was in high school. And, as an adult, I regularly join figure drawing groups every few years, though I do get lots of practice in my day to day life. I work as a story board illustrator for ad agencies here in New york.
In the Fall of 1996, the reigning leather bar in the city was "the Lure". There hosted a weekly party known as "Pork". It's carnival-like atmosphere featured live acts, including a handful of visual artists creating large scale drawings and paintings. This was the first time that I did any significant examples of the male figure.
Unlike the others, I would paint live models: I would lure the Lure patrons up on to the stage to pose for me. And, though the subjects were delighted to have been chosen, they were mainly at the bar to cruise, not to pose. So I didn't have the luxury of time. As a result, the likenesses were fresh and immediate. And the public performance aspect of the endeavor afforded me a chance to share more than the finished painting. I got to share the procedure as well, thus demystifying the artistic process.
I am now doing drawings and paintings of the male figure regularly, including 10 years of homo-erotic images for publication in "Handjobs" magazine. My work is included the permanent collection of the Leslie & Lohman Museum of Gay and Lesbian Art in New York.
Read Less Read More