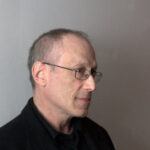 Born in Paterson, New Jersey, Cherone was an artist and activist. He graduated from Pratt Institute with an MFA in Painting. He exhibited his work at PS 122 Gallery, NY; Public Image Gallery, NY; Castillo Cultural Center, NY; Without Wall Gallery, NJ, and The Boston Center for the Arts, MA, among others. He was diagnosed with AIDS in 1991, and his work shifted from more formal and abstract paintings to issues of mortality and anonymous portraits, while still engaged in color and light.
Cherone joined ACT-UP in 1988 and participated in Gran Fury's "Kiss-In" project. He also volunteered at GMHC and taught painting at Dowling College and Pratt Institute.
He was diagnosed with cancer died o Monday May 17, 2010.
Read Less Read More