Upcoming Event
Lives and Legacies of the Visual AIDS Archive
The Whitney Museum of American Art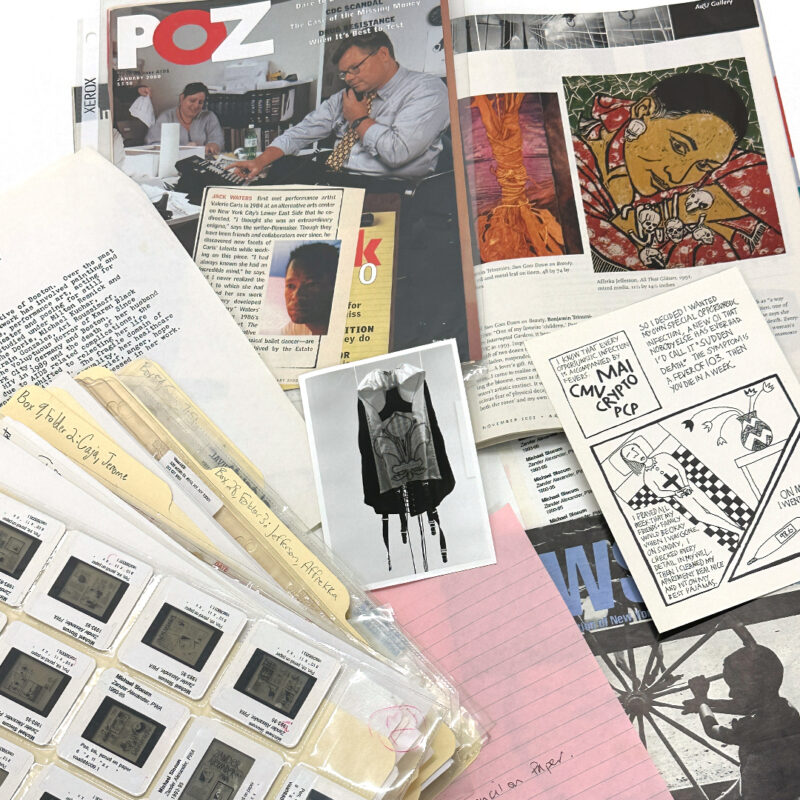 Visual AIDS and the Whitney Museum of American Art present a day-long symposium highlighting the lives and legacies documented in the Visual AIDS Archive, the largest collection of images and biographical information about HIV-positive artists.
The event highlights two new archival initiatives at Visual AIDS: the Visual AIDS Research Fellowship, which supports scholarship on artists lost to AIDS, and The Body as an Archive, an oral history project that pairs HIV-positive artists in intimate conversation.
The day concludes with a keynote presentation by Marika Cifor, author of Viral Cultures: Activist Archiving in the Age of AIDS (University of Minnesota Press, 2022). Drawing on the Visual AIDS Archive, Cifor explores vital nostalgia, the act of preserving activism of the past while remaining attuned to the contemporary stakes of the ongoing AIDS crisis. Additionally, Cifor will be joined by curator and archivist Sur Rodney (Sur) and together they will consider the history of the Visual AIDS Archive and reflect on the growth and development of the project over the past three decades.
This event is free but registration is required.
This event is made possible by an Action Grant from Humanities New York.


Schedule

2–3:30 pm
Researching Artists Lost to AIDS
Research presentations by three participants of the Visual AIDS Research Fellowship:
"Historical Bodies: AIDS Feminism in the Works of Valerie Caris Blitz, Jerome Caja, and Affrekka Jefferson" —Julia Harris, PhD candidate in American Studies, Harvard University
"The Black Gay Ordinary: Michael Slocum and Zander Alexander, PWA"—Olivia R. Polk, PhD Candidate in American and African American Studies, Yale University
"Mythological Books and the Revival of the African Codex in Reginald Walker's Artists' Books"—Megan N. Liberty, Editor, Brooklyn Rail; independent curator and writer
Respondent: Drew Sawyer, Sondra Gilman Curator, Whitney Museum of American Art
3:30–4 pm
Break
4–5:30 pm
The Body as an Archive
A conversation about oral history and The Body as an Archive with Constantine Jones, Programs Assistant, Visual AIDS; Katherine Cheairs, filmmaker, educator, curator; and Shane Aslan Selzer, community artist. Featuring video excerpts from oral histories with artists Jorge Bordello and Beto Pérez, Curtis Carman and Milton Garcia Ninja, and Eric Rhein and José Luis Cortés.
5:30–6 pm
Break
6–7:30pm
Keynote: Marika Cifor on Viral Cultures
Respondent: Sur Rodney (Sur), writer, curator, archivist, former Visual AIDS board member
Speaker Bios (in order of appearance)
Julia Harris (she/her) is a doctoral candidate in American Studies at Harvard University where she studies the entanglements between lesbian and trans communities in the 1970s. She lives in Philadelphia where she also writes a Substack about lesbian history and culture called Dyke Domesticity.
Olivia R. Polk (she/they) is a Black dyke living on territories of the Haliwa-Saponi, and Occaneechi Band of Saponi (Durham, NC); a PhD candidate in American Studies and African American Studies at Yale University; and a Fellow at the Carter G. Woodson Institute for African American Studies at the University of Virginia. Their writing appears/is forthcoming in Frontiers: A Journal of Women's Studies, TSQ, and Sinister Wisdom, among others. She is also a member of the What Would an HIV Doula Do? collective.
Megan N. Liberty (she/her) is an arts writer, editor, and curator who specializes in artists' books. Her most recent exhibition, Craft & Conceptual Art: Reshaping the Legacy of Artists' Books, is traveling nationally. She has an MA in Art History from the Courtauld Institute of Art and a BA in English from Dickinson College..
Cea / (Constantine Jones)(they/them) is an interdisciplinary thingmaker, poet, and community facilitator. They coordinate the Visual AIDS Oral History Project, The Body As An Archive, and are the author of a novel, In Still Rooms (Operating System, 2020) and a collaborative chapbook with Portuguese artist Vincent Sampaio, BALEEN: A Poem In Twelve Days (Ursus Americanus, 2022).
Katherine "Kat" Cheairs (she/they) is a filmmaker, educator, curator, and community artist. Kat served on the Visual AIDS Archive Committee and produced the video Voices at the Gate for Visual AIDS's Day With(out) Art 2021 program. Kat is also the founder of the Makeda School for Art, Media, and Humanities, an online learning space drawing from progressive education and Black feminist pedagogies.
Shane Aslan Selzer (she/her) is an artist, educator, and founding editor of the Social Action Archive Committee (SAAC), which creates programming around archives at University Art Museum in Albany, New York and The Schomburg Center for Research in Black Culture and Visual AIDS Archive and Artist Registry. The SAAC's exhibition TORCH'72/2020 at University Art Museum was given the Dr. Ron Simmons Award of Excellence in LGBTQ+ Creative Works in 2021.
Marika Cifor, PhD (she/her), is Assistant Professor in the Information School and Adjunct Assistant Professor in Gender, Women, and Sexuality Studies at the University of Washington. A feminist scholar of archives and digital studies, she is the author of Viral Cultures (Minnesota, 2022) and numerous articles on archives, affect, and sexuality.
Sur Rodney (Sur) (he/they) is renowned for his creative service and interpersonal relationships and is enigmatically recognized as an animateur in the field of contemporary art for his work as a writer, curator, and archivist.
---