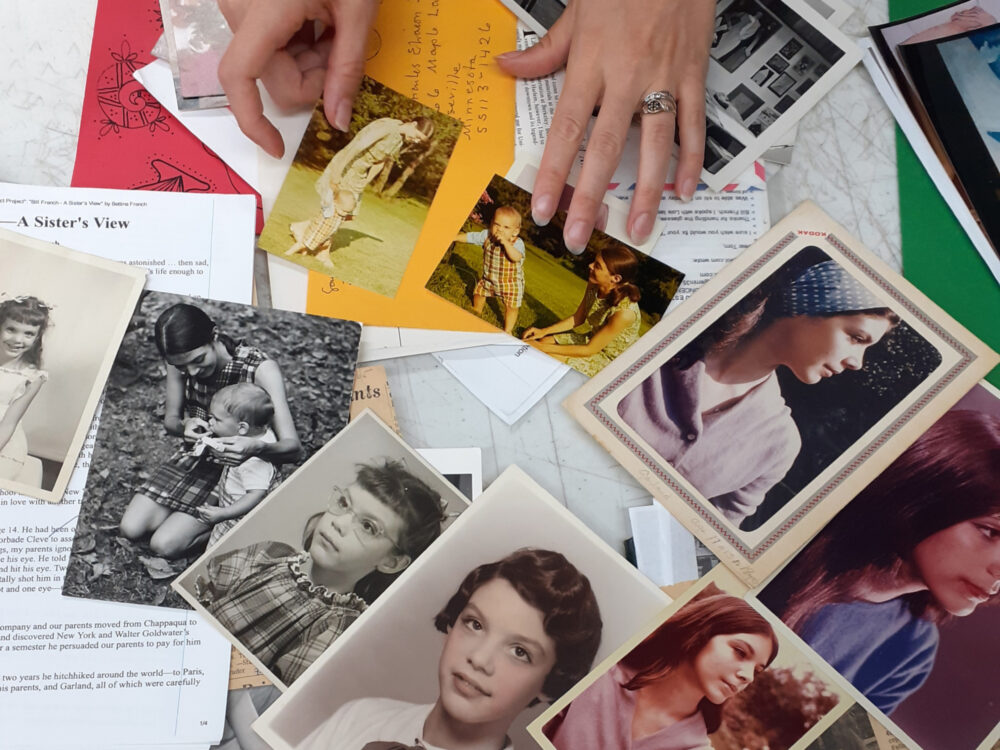 Photographs and documents related to artist Garland Eliason-French, part of a collection donated to the Visual AIDS Archive Project in 2019
The Visual AIDS Research Fellowship supports writing and scholarship about artists who have been lost to AIDS. Each year a cohort of fellows works with Visual AIDS to develop a piece of original writing for the Visual AIDS website.
Research fellows work with primary sources in the Visual AIDS Archive, as well as interviews with estates, families, and friends, and other materials in private and public collections.
To learn about the research that has been supported through the fellowship, please click the "Past Fellows" tab above.

About the Visual AIDS Archive
The Visual AIDS Archive collects artwork documentation, personal papers, and records pertaining to the lives and work of artists living with HIV and AIDS, as well as those who have passed. The Archive was started in 1994 by Frank Moore and David Hirsh as a response to losing not only friends in the AIDS crisis but also the loss of art and materials that often followed. The Archive currently exists as 555 artist folders that are made up of artwork documentation (mainly in the form of slide photographs taken by Visual AIDS volunteers during the 1990s), personal papers such as artist statements, CVs, press clippings, exhibition announcements, correspondence with Visual AIDS, and other objects related to the lives and work of these artists. The files also contain a small number of artists' books, artworks on paper, personal photographs, and personal writing. In the spirit of community archives, our donations have come from artist members, estates, friends, and family members.
The Visual AIDS Archive is always open to researchers and the general public by appointment. For more information about our archival holdings and how to schedule a research visit, see here.
Since 2012, the Archive has also existed online as the Visual AIDS Artist+ Registry. The online registry currently features digitized images and biographical information related to 347 artists from the physical archive, along with 418 other artists who have joined or been added digitally. The registry can be browsed at visualaids.org/artists
2022 Research Fellows
Julia Harris
Historical Bodies: AIDS Feminism in the Works of Valerie Caris Blitz, Jerome Caja, and Affrekka Jefferson
aliwen
Nelson Edwin Rodriguez: Love, Loss, Memory

Due to the high level of interest in the inaugural year of the fellowship, we invited four other applicants to develop their research through commissioned texts for the Visual AIDS website:

Dani Stompor
In search of Osvaldo Gomez, or La Paisa, or La Loca, or the artist otherwise known as the fabulous Ms. Colombia
Olivia R. Polk
Michael Slocum, Zander Alexander, PWA and the Black Gay Ordinary
Gina Prat Lilly
Myth-Making and Shaking: the Subversive Art of David Cannon Dashiell
Olivia McCall
More Life: Photographer Leslie Kaliades's Turn Toward the Moving Image
---
| | |
| --- | --- |
| | October 13, 2023 |
| | August 31, 2023 |