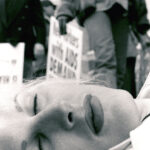 Chloe Dzubilo was an artist and AIDS and transgender activist.
Chloe studied art at the Parsons School of Design and received an associate degree in Gender Studies from the City University of New York City College 1999.
A native of Connecticut, Chloe moved to New York in 1982 where she briefly worked at Studio 54. She soon became the ad director at the downtown art magazine the East Village Eye just when the neighborhood's art scene began to explode.
In the '90s, she was an icon of downtown nightlife. She wrote plays for and performed with the Blacklips Performance Cult at the Pyramid club and edited the group's zine, Leif Sux. She was the lead singer and songwriter for the punk-rock band the Transisters, who played at CBGB's, Squeeze Box at Don Hill's and other trendsetting hubs of downtown culture.
Chloe was a muse for designers Marc Jacobs, Alexis Bittar and Patricia Field and art photographers Nan Goldin, Alice O'Malley, and Tanyth Berkeley. She modeled for fashion photographers David Armstrong, Steven Klein, and Michael Sharky.
She was diagnosed with HIV in 1987 when her partner of nine years, Pyramid Club founder Bobby Bradley, died of AIDS. Since her diagnosis, Chloe advocated for civil rights, adequate health care and dignity for people living with HIV/AIDS, transgendered people and drug users.
A longtime volunteer for the LGBT Community Center's groundbreaking Gender Identity Project, she served on its transgender HIV prevention team conducting prevention outreach in bars, nightclubs and on strolls. She spoke at national and international conferences, in video Public Service Announcements and training workshops for health care and mental health providers.
Chloe was involved with the political action group the Transsexual Menace and went on to direct one of the first federally funded HIV prevention program for transgender sex workers in 1997.
In 2001, Chloe founded the Equi-Aid Project, a Manhattan-based riding program that specifically targets children who are infected with or affected by HIV/AIDS as well as other at-risk youth.
In September 2002, Chloe Dzubilo became the first transgender person to appear on the cover of POZ, a magazine for the HIV and AIDS community. She graced the magazine's cover two more times.
In 2003, Chloe was appointed to the HIV and Human Service Planning Council of New York, an advisory body composed of people living with HIV and AIDS, service providers, and government representatives, charged with ensuring that "people living with HIV have access to appropriate, quality services across the continuum of care, resulting in the best possible health and quality of life."
Portrait by Alice O'Malley
Read Less Read More