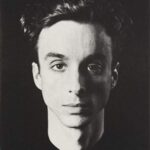 Hugh Steers (1962–1995) was celebrated for his allegorical painting that captured the emotional and political tenor of New York in the late 1980s and early 1990s, particularly the impact of queer identity and the AIDS crisis. Born in Washington, D.C., Steers studied painting at Yale University, and pursued a commitment to figuration throughout his career, cut dramatically short by AIDS at the age of 32. Influenced by historical figures of art, including Thomas Eakins, Edward Hopper, Paul Cadmus, Pierre Bonnard, and Edouard Vuillard, among others, he embraced representational painting and figuration at a time when such approaches were especially unfashionable.
Steers described his artistic perspective in an interview in September 1992: "I think I'm in the tradition of a certain kind of American artist—artists whose work embodies a certain gorgeous bleakness. Edward Hopper, Jackson Pollock, Franz Kline—they all had this austere beauty to them. They found beauty in the most brutal forms. I think that's what characterizes America, the atmosphere, its culture, its cities and landscape. They all have that soft glow of brutality."
While embracing the polemics of identity politics through his visual content, Steers' emotionally charged painting took a departure from the more didactic work of his peers. The last five years of his artistic practice focused on AIDS as a subject matter, drawing on community experience and mixing dreamlike allegory with figurative realism. The resulting images amplify issues of mortality and isolation, defiance and compassion. Hugh Steers' artwork is in the collections of the Whitney Museum of American Art, the Walker Art Center, and the Denver Art Museum.
Read Less Read More