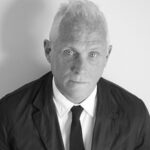 John Hanning
b.1961
Arkansas > Memphis > New York > Italy > New York > L.A. > Boston > New York > Arkansas > Dallas > Arkansas > New York: artist John Hanning has traveled a lot in the past three decades—wandering, out of necessity, always searching. Born in 1961 in Paragould, Arkansas, Hanning grew up in the "sleepy, Southern town" of Prescott. He attended Memphis College of Art and studied at the School of Visual Arts, Fashion Institute of Technology, and Parsons, the New School for Design.
With his recent body of work—a series of brightly colored, mixed-media paintings on wood panels—Hanning draws from his experiences of growing up queer in the South and how being HIV+ has informed his life and art. Rubix cubes, an explosion or orderly clusters of multi-colored dots, black-and-white cut-outs of robust men, jewelry, disco cubes, and palm trees compose his personal iconography as he traces his life to the present. Pac-Man and the quirky, digital spaces of 1980s videogames are also an inspiration; Hanning relates the way he connects places and ideas—pictorially and conceptually—to the way Pac-Man moves through the maze of dots.
Hanning distinctly remembers first moving to New York City in 1983, his transition punctuated by Madonna's song "Holiday," which played ubiquitously. In the 80s, he painted his own T-shirts, greatly influenced by the cartoonish, wiry lines of Keith Haring. He shared these designs with friends, who would often ask him to paint their clothes, too. At the time, amidst the burgeoning art communities of the East Village, Hanning collaborated with various artists and organizations, among them Patricia Field, John Stolzberg (Jon9), and the University of the Streets.
In 1985, Hanning created a character that would evolve into Cosmo, his stick-figure alter-ego and soon-to-be virtual avatar. Wandering New York City, you may have seen the black-and-white square stickers, bearing Cosmo's figure, adorning poles, subway ads, etc. Like many of Hanning's art, Cosmo represents the artist's aspirations for harmony and the realization of a dream.
In fact, dream boards have played an important role in Hanning's life. For him, they are a meditation and an escape. They help him focus his energies toward what he wants to create and achieve. In the mid-90s, severely weakened by AIDS, Hanning moved to Dallas, where, he recalls, he began to heal. He remembers that he could only make, and see in, black-and-white images. The line drawings he made then have evolved to spritely, graffiti-infused houses, diamonds, and figures—among them Cosmo. Cosmo is straight out of Hanning's dream world: a "little-kid character," an artist, a son who loves his mother's chocolate pie. Cosmo is many things.
Hanning is also the author of Unfortunate Male, his first book.
Read Less Read More