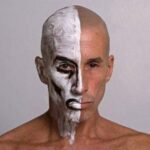 Jose Luis Cortes
b.1962
At fifteen, I realized what I liked sexually. I met a very good looking Canadian who picked me up and took me to his hotel room. We began to have sex, he slapped me on the face, took me from behind while pulling my hair. When it was all over I -knees shaking -
felt exhilarated, fulfilled, and happy. From then on I developed a fixation with rough sex, being dominated and one night stands. I hardly ever dated and have been promiscuous ever since. I went on living my life this way. Pain, pleasure, sex, beauty, drugs and love have always been intertwined within my essence."
-Jose Luis Cortés
(excerpt from the essay
It feels like Love but it's the Drugs
2013 Web Gallery under the same
title.
Jose Luis Cortés is known for his artwork inspired by his time in New York City in the early 1990's. Cortés' very personal work reflects the underbelly of gay life – documenting a life on the fringes of society: of sex workers, addiction, and of a changing landscape. He is an artist who, with his work, validates his world and voices his identity as both a gay man and as a Puerto Rican
José Luis Cortés was born in Philadelphia, Pennsylvania to Puerto Rican parents. His family moved to Puerto Rico when he was three years old, and he lived there until the age of 28, when he moved to New York City. A gay man, José Luis's artistic career took off more when he began producing work inspired by the 1990's New York City gay scene. José Luis's work has been exhibited in galleries and museums in Amsterdam, London, Berlin, New York, Miami, among other locations. His work has been reviewed in the New York Times, Art in America, and Out Magazine and many other publications. You can see more of his work at the Visual AIDS Online Registry. and learn more about him at joselcortes.blogspot.com.
José Luis is also an AIDS activist. He was a founding member of The Archive Project, and was included in the landmark exhibition, The First Ten (1995), which showcased the work of artists living with HIV. Currently he works with urban youth in Puerto Rico, teaching them about art, and how it can become a part of their daily lives. In 2013 José Luis participated in VIAL, a project of the Museo de Arte de Puerto Rico (MAPR)
Background
While living in NYC in the late 1990s, the gay porn industry became José Luis's obsession. He spent several years documenting this industry from the inside out. He performed as a stripper at Eros I, the first gay male porn theater in the United States. During his performance intermissions, José Luis would step out to photograph the then soon-to-be destroyed theaters by the Times Square's "renewal" (or "Disneyfication") plan set in motion by NYC's mayor Rudolph Giuliani.
It was during this time that José Luis began painting on newspapers, mostly the New York Times, using only black and white gouache while letting other colors already in the newspapers bleed into the images he paints. Both his work and medium reflect the complexity of his life history as a gay man and artist. The short-lived nature and deceptive fragility of newspaper is the ideal medium to document the context in which José Luis life and art happen. When asked why he chooses newspaper instead of canvas, José Luis quickly replies, "Because newspapers document what happens in the world; and my work documents what happens in my life."
Paradoxically, as the Times Square's all-male theaters were disappearing, José Luis spent years preserving their images in newspapers printed during those same days in which gay life in NYC was being transformed. The scenes painted in those newspapers depict the gay theater era intertwined with "the news that's fit to print" of the 1990s. The images as well as the medium—newspapers printed in the 1990s—are now time capsules. Fifteen years later, those images and newspapers are still around to transport us back in time.
In 1999, New York Times' art critic Roberta Smith referred to Jose Luis's work as "muscularly expressionistic paintings on newspaper." More recently, his work has been the subject of analysis in an attempt to understand the intersection where life and art converge. In this regard, Richard Rothstein, contributor for 'Art and Perception,' has described José Luis as an artist that "paints within the framework of an odd lifestyle pattern." However, this is a rather narrow view of both his work and his life. The same way José Luis's homoerotic work evokes raw emotions, other facets of his work— his parents' wedding portrait, portraits of his niece and his deceased father, as well as urban scenes of the Puerto Rican neighborhoods where he grew up— evoke tender emotions and reveals yet another dimension of his life and art.
There is another medium through which José Luis expresses his life and art: live performances in which his body becomes his canvas, once again, blurring the distinction between art and life. Some of these performances are evocations of his days as a Times Square stripper; others involve applying makeup that makes him indistinguishable from his self-portraits on newspaper. During other performances some of his self-portrait images are tattooed to his body.

Currently now in Puerto Rico, he works as fetish film maker in queer film festivals which includes the award winning CASH MASTER, a published poet with his poem THE PERFECT MAN and performance artist. Both his work and mediums continue to reflect the complexity of his life history as a gay man and artist.films can be seen here.
Read Less Read More