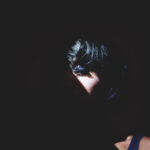 Kia LaBeija
b.1990
Kia LaBeija (b. Kia Michelle Benbow; 1990) is an image maker and storyteller born and raised in the heart of New York City, Hell's Kitchen. Her multidisciplinary approach to art making includes photography, performance, collage, design, writing and film. She composes cinematic and theatrical autobiographical works by staging, re-imagining, sometimes documenting in real time, or all of the above. Her performative self-portraits embody memory and dream like imagery to narrate complex stories at the intersections of womanhood, sexuality, and navigating the world as a woman living with HIV.
She's presented work at The Whitney Museum of American Art, The Brooklyn Museum, The Studio Museum in Harlem, The Museum of The City of New York, The Bronx Museum of the Arts, Los Angeles County Museum of Art, The International Center for Photography and the Performa '19 Biennial. Highlighted partnerships include W Magazine, Harper's Bazaar, Apple, DAZED, OUT Magazine, Vice, Dr. Martens and Triple Canopy.
In 2022 she presented her first solo museum show prepare my heart at Fotografiska New York. Her highly regarded exhibition of original photographs, ephemera, objects and family images chronicles love, loss, and growing up HIV-positive in New York City.
Heavily involved in New York's Iconic House and Ballroom scene for over a decade, Kia was a member of the Royal House of LaBeija from 2012 to 2019, serving as the Overall Mother from 2017 to 2019. She played the title role of Dove in Band Pillar Point's viral music video, and appeared as a Principal Dancer in the pilot episode of Ryan Murphy's Ballroom Drama POSE.
She is a 2019 Creative Capital Awardee alongside her partner Taína Larot. Kia is a graduate of the New School University.
Read Less Read More