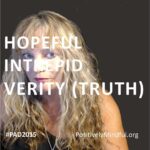 I live in Cornwall UK, have one child now 29 and I am now 65 years old and was diagnosed HIV positive in late 2006, along with my husband. We were only diagnosed because both of us had been been feeling quite unwell for over a year and he then became critically ill. It turned out he had HIV and a CD4 of 8 and and AIDs defining infection PCP. I had a low CD4 count of 75 but I had no infections. I still felt terrible though.
We never suspected. We have been together since 1984. It was a huge shock.

It was also for me ironic as I well knew how not to get HIV.
I had in the past done some HIV activism and as a qualified and senior youth worker for most of my working life had a special interest in sexual and reproductive health, advice and education, which included HIV.
In fact in the 1990s had been as a paid youth worker part of a project working with those who were HIV positive to raise awareness of HIV among young people. The project ran awareness sessions and workshops and education on HIV and I worked with HIV positive people. Never thinking , then I would ever be HIV positive myself!!

One of the reasons for my lifelong interest was I lost a good friend and one time boyfriend in the 80s due to AIDs, before we had the wonderful ARV drugs we have now.

But when my husband and I started to feel unwell in 2003 it never occurred to me, or him, we had HIV.
I had never been unfaithful to him. But it seems he had but some years ago. We think we know when we got HIV, which was some years before our diagnosis, but we will never know for sure.

I made the decision straight away to be open about my status. Among many other reasons I felt it would be disingenuous to have done the work I had in raising awareness and education and then hide my status when I too had HIV. And an insult in my mind to my friend and others that had gone on this journey before us and the many who had lost the battle.
I want to break down the stigma associated with the virus. And have worked hard ever since to do so.
Mostly I use social media for this purpose as I live in very rural Cornwall UK and this is always available, when other arena's are not.
Read Less Read More
This is an eclectic collection of my paintings, drawings, photographs craft and digital work.
I am not at all prolific. Often I only do two or three paintings a year. And now due to problems with my hands I rarely do any craft work anymore.
I only occasionally do anything now that is HIV related.
However as I live with HIV, and want to raise awareness and support others that also do. But HIV is not my whole life.

Although it is a part that will now always be with me and something I still struggle with.
Foundation in Art 1971 Southampton- did not complete - did the whole course but was young and did not understand why it was important and in those days it was exam based, so did not do the final exam!!

Certificate in Fashion, textiles and Pattern cutting, vocational course - 1973 - London College of Fashion.
Certificate in Education (Secondary) (With Distinction) Main Subjects, Youth and Community Work and Education, 1981 - Roehampton Institute of Higher Education. Now Roehampton University

Higher National Diploma ( HND) Multimedia Art and Design 2001 - included, Multimedia Art, Digital Imaging, Web design and construction and programming - Cornwall college.

Certificate of Higher Education, Learning technology Research 2007 - Anglia Ruskin University

And many other courses. Too many to mention.
But what do they matter. I'm 65 years old. No one will now employ me, well not in the UK and not on the basis of my qualifications now.
I am lucky as unlike many my age in the UK I still have an income. But I find that mostly qualifications have become irrelevant to me and to anyone else.

All that matters now, to me and anyone else, is what I do with my time.