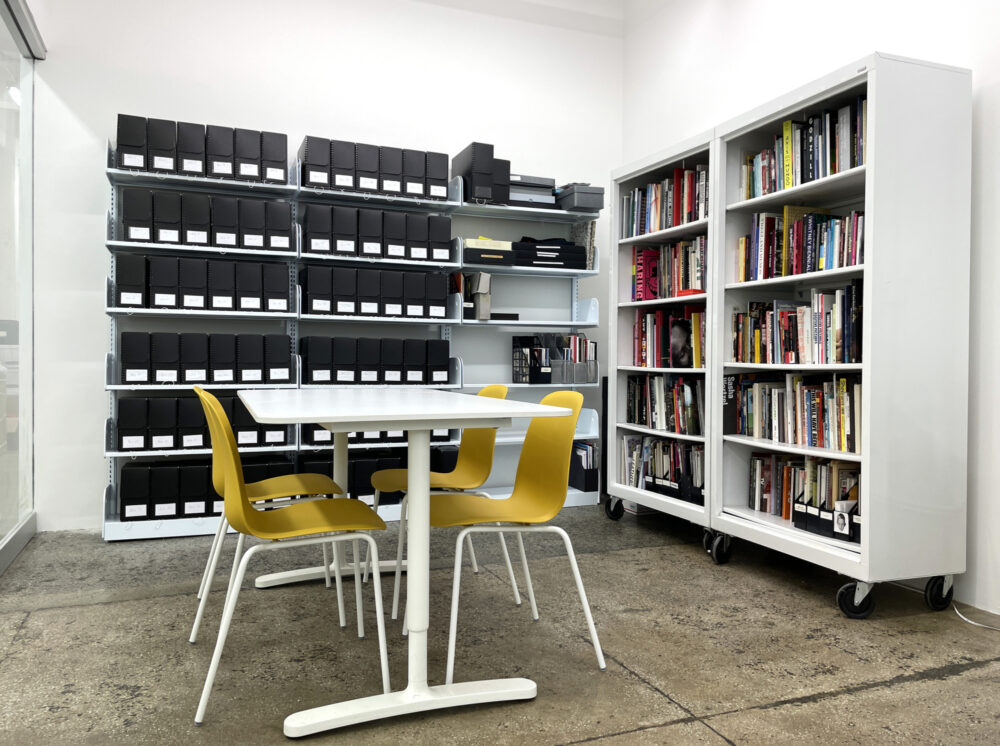 Scheduling a Research Visit
The reading room is open Monday through Friday by appointment. To schedule a research visit to our reading room, please reach out to Kyle Croft at kcroft@visualaids.org. Our research library and archival holdings are available for research during these visits.

Our Physical Holdings
The Visual AIDS Archive Project contains 39 linear feet of materials pertaining to 566 unique artists, including 222 artists who are not represented on our online Artist Registry. Because the Archive Project was conceived in a pre-Internet world, we have taken care to confirm permission with artists and estates before identifying HIV-positive artists on our website. Because of this, the container list below only includes the names of artists and estates who have consented to share their information online. We are still in the process of confirming permission and will update this document periodically. A complete container list is available in the Visual AIDS office for in-person research visits.

To view our folder list, click here
*Please also note that we are in the process of verifying information about the birth and death dates of artists in our collections. Date updated: 2022-03-10
Research Library
Our research library contains over 400 exhibition catalogs, monographs, artist books, zines, magazines, and other publications pertaining to art about AIDS and artists with HIV and AIDS, with many rare and out-of-print titles. Our research library is available for in-office use only.
To search the library catalog, click here.
Significant subjects: People living with HIV; HIV, AIDS, and the Arts; 1990s exhibition history, 2000s exhibition history, NYC exhibition history, queer art, erotic art, gay erotic art, community activism, art activism,

Significant genres: Object photography, artwork photography, exhibition brochures, exhibition announcements, personal papers, correspondence (with Visual AIDS).


---