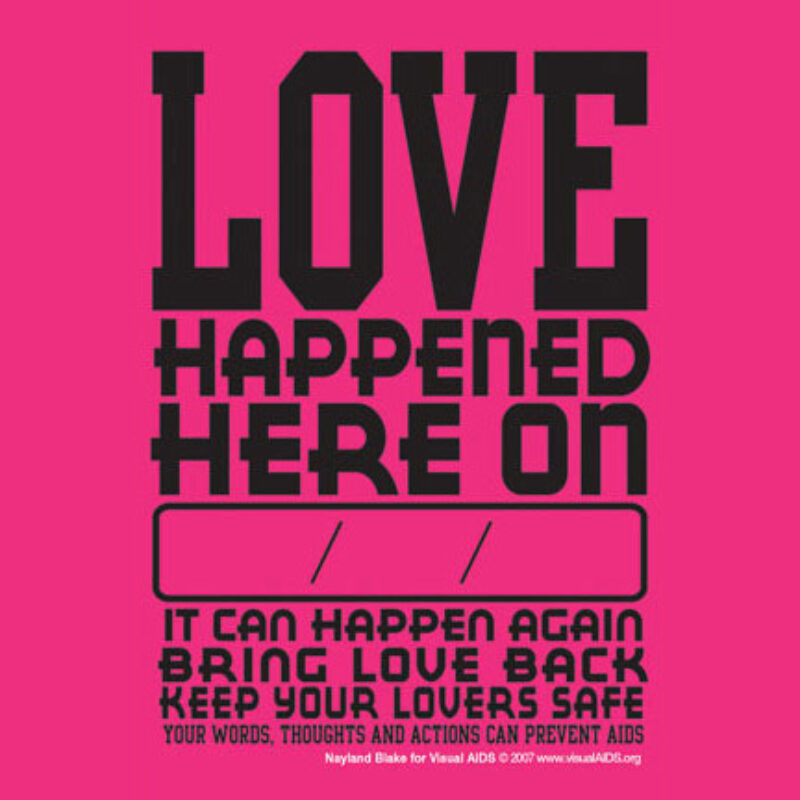 Visual AIDS Asks "Where Did the Love Go?" - 2007
Over 20 years of AIDS activism, we must acknowledge the manner in which the pandemic has changed, and the ground we have gained. Yet we cannot forget how we got here, the battles that have been fought, and all the lovers we have lost.
Nayland Blake, Erik Hanson, Lou Laurita, and Nancer LeMoins created a series of postcards and stickers, offering their visual response to the question: "Where Did the Love Go?"
Many issues surrounding AIDS are no longer front-page news, but statistics continue to rise. Worldwide, over 22 million people have died from AIDS. We ask:


WHERE DID THE CONDOMS GO? Safer sex and harm reduction have transformed from common ground to lost ground. The explicit and honest posters, bowls of free condoms, and those "very special" TV episodes have been replaced. Is AIDS really passé? Has the silence of HIV on the "down low" surpassed the noise of demonstrations? Are we really satisfied with prescribed cocktails, followed by a chaser of crystal and Viagra?
WHERE DID THE KISSES GO? Can we still celebrate our love and sexual freedom for each other, while respecting one another's bodies and working for a larger well-being?
WHERE DID THE PASSION GO? We must not lose the love, respect, and care that we have for each other, that we fought so hard to achieve. Many of us remember the fervor of the fight against a disease and the circumstances that devastated our community. The younger generation may be unaware of what love was lost, let alone where it has gone. Are we still taking care of one another, looking beyond our individual needs to attain a broader communal response?
It is our hope that not only will this prompt people to ask "Where did the love go?," but also "Where is the love NOW?" -- so as to ensure that our love and lovers will be here for generations to come.
---