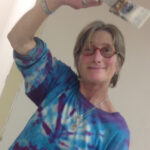 I was born and raised in St. Louis, Missouri. I attended art school and did all of the proper things, but I didn't really start to feel like I was an artist, creating art that mattered, until I tested HIV positive in 1986 and started making art about that. I currently live in San Francisco, where I've been for the past 30 years, with my partner and daughter.
Read Less Read More
Since testing HIV positive in 1986, my work has become increasingly socially and politically oriented. I like the way that art can be used to strike a new awareness. For the past several years, I have been finishing up a few different series. I am almost finished with my 'Bird' series, which began in 2009. This series attempts to draw attention in a beautiful and elegant way to the importance of birds in our lives, and the folly of letting them die out due to environmental problems. I developed several offshoots of this series. I worked with a ceramicist in the East Bay to learn to create handmade tiles that I intended for mosaic use. I have stopped working in ceramics, due to lack of access, but am still creating mosaics from the pieces I have done, and broken plates. It has been very fulfilling for me to work in 3D, after being a 2D artist for so long. I am particularly happy with my boxes, which incorporate my newest gouache and watercolor pieces that have been digitalized. I will be continuing to make more boxes and mosaics. My upcoming direction is a total departure. I am working on silkscreen posters that present social and political issues in a humorous or ironic manner. I am specifically interested in addressing the themes of women and the ways that new laws and values are affecting us. One of these issues is how women are treated by society as we age. I have been silkscreening drawings and photographs of older women's faces on the bottom of men's shoes. This is to reflect on the manner in which we are made invisible as we age.
137 Otsego Ave. San Francisco, Ca. 94112 (415) 452-0414 or (416) 699-0060
Objective: To create dynamic and accessible art about socially relevant issues.
Education: 1975- 1980 The Evergreen State College Olympia, Washington 1999 New College of San Francisco BFA
Relevant Work Experience: 1995 -2003 Positive Art Teacher, California Arts Council 1998 Curated and created Positive Art 10th Anniversary web site Queer Arts Resource, San Francisco 2000-2009 Printmaking teacher, SOMARTS, San Francisco 2001-present Art Teacher for Positive Art, Oakland 2003 San Francisco Art in Transit project 2008 Artist in Residence, University of San Francisco
Presentations/Awards/Special Recognition: 1997 Teaching Art in Community Based Organizations College Art Association panelist, New York 1997 Heart Beat, Panel Discussion, Chico, Ca. Coyote Gallery, Butte College 1997 Teaching Art in Community Based Organizations, International Conference of people with HIV/AIDS Chaing Mai, Thailand 1998 LVA: Lesbians in the Visual Arts, San Francisco Forum on lesbian artists/activists 1998, 2001, 2006 Visual AIDS calendar, New York 2000 San Francisco Art in Transit grant San Francisco Arts Commission 2001 Potrero Nuevo Grant Recipient Exhibits: (Partial list) 1993 Facing AIDS, Richmond Art Center 1994 Immune Systems, Nexus Gallery, Berkeley, Ca. 1994 Breaking the Silence: Voices of Positive Women Richmond Art Center 1995 No More Scapegoats, Corte Madera, Ca. 1995 Footprints of Disembodied Spirits Holy Names College, Oakland, Ca. 1994-2005 Annual Visual AID exhibitions, San Francisco 1996 The Arts of Hope, Essex Supper Club, San Francisco 1996 Out, Loud and Proud, San Francisco 1997 Heart Beat, Coyote Gallery, Chico, Ca. 1997 San Francisco Arts Commission Gallery, San Francisco 1998 No More Scapegoats, San Francisco 1998 Busted, Cell Gallery, San Francisco 1999 The Active Edge, Mission Cultural Center, San Francisco 1999 Opening Tricks, Berkeley Festival of the Arts, Berkeley, Ca. 2001 Four Women, 410 Van Ness Ave., San Francisco 2001 Consecrations: Spirits in the Times of AIDS Pro Arts Gallery, Oakland, Ca. 2001 Viscera, Space 743, San Francisco 2002 Art & Understanding, Featured artist 2003 Still Here, a collaborative arts project A San Francisco Arts Commission Art in Transit project Addison Street Windows, Berkeley, Ca. Richmond Art Center 2003 Fight or Flight, Works Gallery, San Jose 2003 Space 743, San Francisco 2005 The Art of Women with HIV, Puffin Foundation, Teaneck, N.J. 2007 10 Artists, Spin Gallery, Toronto, Canada 2007 Group Show, Louisiana State University 2008 & 2010 Fresh Work Kala Gallery 2011 Berkeley City Hall Annual Exhibition 2012 Kala Artists' Annual 2012 Feature Article Art and Understanding 2012+2013 Berkeley "60 Boxes" Public Art Piece
SOLO SHOWS 2000 World AIDS Day Exhibition, San Jose Museum of Modern Art 2001 The Gallery at 400 Castro, San Francisco 2006 Still Here, Houska Gallery, St. Louis, Missouri 2008 EMERGENCE San Francisco University 2010 Birds, Buffalo and Cabins Park Chow San Francisco