Our relationship to home is deeply tied to our sense of self and overall well-being, but for LGBTQIA+ individuals and people living with HIV, this relationship can be complex or complicated. While home can take so many forms, historically, the domestic sphere has been seen as a site of heteronormativity and conformity. With rigid gender roles enforced and same-sex relationships often marginalized, the home can be the first place where queerness is policed.

The story of Jordan Neely—a member of the LGBTQIA+ community who was unhoused and in dire need of empathy, compassion, and resources—serves as a poignant reminder of the privilege and significance of having a safe and stable home and how the systems of capitalism and white supremacy that we live in consistently disregard the lives of Black LGBTQIA+ people.
Homelessness is a critical issue, and in the United States alone, the Department of Housing and Urban Development (HUD) estimated that there were approximately 580,000 people experiencing homelessness on a single night in January 2022. Homelessness is also linked to higher rates of HIV, emphasizing a systemic connection between housing insecurity and healthcare access.
Housing, itself, is healthcare.
Contemporary artists living with HIV and LGBTQIA+ activists have sought to reclaim domestic spaces and practices as sites of resistance and creativity, exploring what it means to have a place to call home.
As I navigated the Visual AIDS Artist Registry, I sought out artists that unpack the nuanced meanings and aesthetics of home and domesticity. The artists showcased in Re-imaging Home question and subvert dominant cultural norms, pushing the boundaries of what is considered "normal" or "acceptable" within domestic spaces. These artworks visualize what it means to exist and feel at home and the importance of people living with HIV and LGBTQIA+ folks to have the resources to live a full life.
When I was thinking about the idea of home, I immediately thought of Joey Terrill's paintings. In his Still Life series, Terrill creates works about living with a long-term survivor of HIV. Using the aesthetics of Pop Art and drawing inspiration from Tom Wesselmann, whose collaged still-lifes from the late 50s to early 60s were ironic illustrations of American consumerism and domesticity, Terrill explores the complexities of living with HIV. Nods to queerness and sexuality are evident through the use of cheeky symbols like bananas, Peter Pan peanut butter, Arm & Hammer products, tropical fruit salad, and other everyday queer-coded food items, layered between vibrant prints, fruits, and flowers. There are also meditations on Videx, Zerit, and Truvada, prescription medicines used to suppress HIV to an undetectable level.
We see a similar layering of mundane everyday objects juxtaposed with medications in the piece Vanitas 1 De la serie Natura Mortis by Leomar, where the artist seamlessly weaves together notions of domesticity and HIV.
In one of Terrill's still-lifes, there is a poster that reads "Apoya tus hermanos con VIH - Support your brothers with HIV." This idea of support, brotherhood, and community is a constant theme throughout Joey Terrill's practice.
Home for queer individuals, and particularly those also living with HIV, can be the sense of belonging within the communities we form. Examples of this can be found in Sunil Gupta's Exiles series that defies heteronormative expectations, or in the private moments of Clifford Prince King's photography. Additionally, Jonathan Molina-Garcia's project, The Bethesda Brotherhood, is a remarkable mixed media endeavor. The series emerged from intergenerational connections with HIV-positive men that forged community ties and developed intimate relationships.
The late Chicana artist Laura Aguilar created a powerful artwork titled Gilbert's Altar in 2001. Though not an artist living with HIV herself, Aguilar was vocal about AIDS and created many artworks honoring people in her community with dignity. The sculpture consists of a suitcase brimming with memorabilia, ephemera, and photographs connected to Gil Cuadros, an American gay poet, essayist, and ceramist (July 22, 1962 – August 29, 1996), renowned for his writings on the impact of AIDS. Gilbert's Altar serves as a poignant tribute by Aguilar to Cuadros and his significant contributions to artistic and political movements.
By exploring the themes of memory, loss, and resilience, Aguilar's artwork provokes contemplation on the profound impact of AIDS on individuals and communities. It also sheds light on the diverse and loving relationships within queer chosen families. These families are built upon love, commitment, and the shared desire to foster nurturing and supportive environments. Through Gilbert's Altar, Aguilar not only pays homage to Cuadros but also challenges societal notions of home, inviting viewers to reexamine their own understanding of this deeply personal and universal concept.
Devin N. Morris' piece Then I Strained to Hear You Above the Noise Out There is a profound exploration of the concept of home. Morris often constructs new home spaces that embody the memories and experiences of Black queer individuals, using doors, cabinet doors, windows, iron gates, wooden fences, chairs, and other elements as symbolic representations. Through his paintings and sculptures, Morris reimagines home, transforming it into a platform for storytelling, resilience, and empowerment. His installation not only highlights the transformative power of imagination, creativity, and community-building but also challenges traditional notions of home and invites us to reconsider our understanding of personal and shared spaces. By reshaping our perception of home, Morris's art prompts us to reflect on the ways in which our environments shape our identities and narratives.
Contemporary queer and HIV+ artists exploring the nuanced meanings of home and domesticity grant us opportunities to see how home can be reimagined beyond rigid heteronormativity. By reclaiming domestic spaces and practices as sites of resistance and creativity and by expanding our expectations of what home should look like we also create more inclusive and equitable living conditions for all.
As we continue to work towards addressing racism, homophobia, transphobia and other systemic inequalities, we must prioritize and invest in accessible and affordable housing for all individuals, regardless of their background or identity. Only then can we truly create a world where everyone has the opportunity to thrive and find a place they can call home.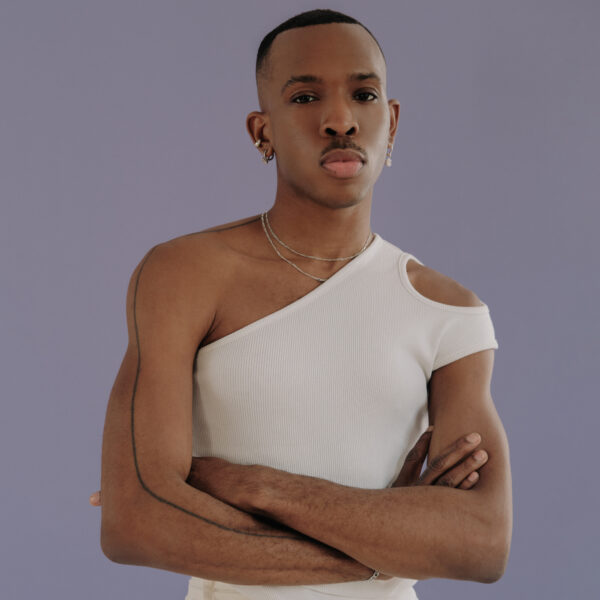 Curated By: LaTefy Dolley
LaTefy Dolley is a multidisciplinary artist and curator from Memphis, Tennessee, currently living and working in Brooklyn, NY. He received his Bachelor of Fine Arts in Painting and a minor in Art History from Memphis College of Arts in 2014 and obtained a Master of Fine Arts from the School of Visual Arts in 2019. His writing has been published in Queer Archive Work's independently published risograph book "Urgency Reader" (2019). Currently, LaTefy is the gallery assistant at Sikkema Jenkins & Co., and he recently assisted Visual AIDS and the Studio Museum of Harlem with programming and social media for their collaborative project, the Last Address Tribute Walk: Harlem. Through his curatorial work and personal artistic practice, LaTefy's work speaks to the complexities and joys of being black and queer. He is interested in what it means to be in a constant state of learning and unlearning oneself, and exploring his understanding of kinship, fragility, and connectivity.